How One Burger Chain Profits From Turmoil Abroad
By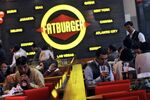 Political protests, disease outbreaks, terrorist campaigns—U.S. business owners considering expanding internationally would be forgiven for deciding to stay at home. But name a tumultuous spot abroad—Hong Kong, Iraq, Egypt—and Andy Wiederhorn has probably opened a burger shop there in the past seven years.
Wiederhorn has taken his Los Angeles-based franchise, Fatburger, from a struggling also-ran to a $125 million company by opening in 32 countries since 2007. He has 200 international locations now and an additional 350 in development, including in places rocked by unrest, such as Tunisia and Libya. Despite the advances of Islamic State, a second store in Iraq is also in the works.
"Consumers all over the world love American brands, especially burgers, shakes, and fries," he says. Facing increasing competition from other specialty burger brands at home, "I knew there was a huge opportunity for us overseas," he says. Wiederhorn began Fatburger's global expansion after serving a stint in prison a decade ago, having pleaded guilty to charges related to paying an illegal gratuity and filing a false tax return in a financial scandal at his previous company.
Fatburger is unusual in its adventures abroad: Less than 1 percent of America's 30 million companies regularly export, according to the U.S. Commercial Service, a percentage that's significantly lower than in all other developed countries. And of the American businesses that do export, most sell to just one other country. That's a major missed opportunity, considering that more than 70 percent of the world's purchasing power is located outside the U.S.
So how do small and midsize companies venture beyond their own backyards and into parts of the world that may be challenging?
Larry Harding, vice chairman of global expansion consulting service Radius, advises business owners to make as comprehensive a list as possible of all the risks and complexities in the region where they're considering expanding. "Before actually launching operations, identify how these risks can best be addressed," he says. "The most effective way to develop the list is by seeking feedback from others who have successfully operated in the specific high-risk location, including colleagues, peers, professional experts, and governmental organizations." He recommends the U.S. Commercial Service as a good source of information.
How do you manage the risks that you identify in a certain location?
Seek out professional organizations for help, Harding suggests. "For example, a company called Control Risks provides consultancy services specifically tailored around helping organizations manage political, integrity, and security risks in complex and hostile environments." You also need to put a backup plan in place for what you'll do if your planned expansion doesn't work out.
Risk isn't only about physical danger: Supply-chain issues, recruiting, and training employees and cultural barriers can also hamper expansion overseas.
How can a U.S. management team accurately assess a dangerous situation halfway around the world?
It can't, without an expert team on the ground. Because his stores are run by franchisees who know their markets intimately, Wiederhorn relies on them to make safety calls. "We are always concerned about the security of our employees, so if there is tremendous violence or risk, we won't open there," he says. "But our local partners are very much attuned to their own political environments, and they recognize that consumers in those areas need to eat."
What happens to your overseas business when a crisis hits?
You can't be easily deterred: When yearlong political protests forced the closure of a Fatburger in Istanbul's Taksim Square, Wiederhorn's franchisee waited and researched additional opportunities. "You can grow twice as fast once conflict dies down and everyone is looking for economic stabilization," he says.
Wiederhorn took considerable risk with his global expansion plan and made major investments in market research in each region before he opened any stores there. His timing may have been critical to success. Wiederhorn's international push started in 2007, just as the U.S. economy was taking a nose dive. "We would have been crippled, trying to expand in the U.S. with capital drying up. But the Middle East and Asia were flourishing at that time, and we could still get capital," he says. "We basically leveraged the parts of the global economy that were working well."