After Going Viral, Dollar Shave Club Takes Its Ads to Boring Old TV
By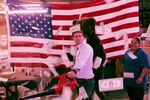 Dollar Shave Club, a startup launched two years ago on the strength of a single, silly viral video, has started to grow up. More than a million customers spend about $7 million each month to get razor blades and other grooming products in the mail. Becoming a serious business hasn't changed the tenor of the ads—still sophomoric and hilarious—but Dollar Shave Club has shifted its marketing focus from YouTube to traditional television commercials.
Four 30-second ads started airing this week on "shows guys watch," says Dollar Shave Club Chief Executive Officer Michael Dubin. If all goes as planned, the media blitz will introduce the razor-shipping service to a class of consumers that may not be directly plugged into the Internet's stream of GIFs, cat videos, and irreverent product pitches.
"It's certainly an expansion of our efforts," Dubin says. "These spots needed to do two things: reach new markets but also be consistent with our brand tone, so that any existing members know that it's part of the same company."
"Brand tone," in this case, would be a shopper getting tased by a store clerk. The new Dollar Shave spots go to great lengths to highlight the frustrations of buying razors in-person: locked retail display cases, weird rebates, and high prices.
Dollar Shave's initial pitch, published on YouTube in March 2012, focused solely on the prices and the intricacy of blades from established brands. "Stop paying for shave-tech you don't need," Dubin intones in the first video. The new spots play up Dollar Shave's convenience as a subscription-based model selling a range of products. The line now includes shaving "butter," an aftershave lotion, and packs of wet-wipes, which warranted a second Web video dubbed "No. 2."
In the past two years, as Dollar Shave and its competitors ramped up, the number of razors sold at convenience stores has sunk by 2 percent and the number of blades sold in those shops plummeted by 19 percent, according to Nielsen data. Beard-wearing hipsters have also contributed to the overall decline of razor sales. Rival razor subscription services, including one from Procter & Gamble's Gillette brand, have also played a part in the retail razor slump.
Dollar Shave's shoe-string social marketing campaign managed to round up quite a few fans. Some 1.2 million people are currently "active" subscribers, and 40 percent of them are signed up for more than one product. At its current pace, Dollar Shave will ship 44 million cartridges in the coming 12 months.
Dubin declined to discuss profit. It's safe to say the company is buying old-fashioned ads, in part, because it can.
Before it's here, it's on the Bloomberg Terminal.
LEARN MORE