Bernie Sanders Is Serious About Running for President
By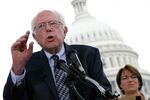 Vermont Independent Senator Bernie Sanders has lined up veteran Democratic campaign strategist Tad Devine for a prospective 2016 presidential campaign, the Washington Post reported on Tuesday morning. "I believe he could deliver an enormously powerful message the country is waiting to hear right now and do it in a way that succeeds," Devine, a former senior adviser to the Kerry-Edwards and Gore-Lieberman campaigns, told the Post's Robert Costa.
Tapping Devine is the latest sign that Sanders is serious about exploring a run, and not averse to the attention that comes with being seen as a presidential contender. Over the past year, Sanders—the Senate's only self-described socialist, who caucuses with Democrats—has been speaking in increasingly strong terms about his willingness to run, and about presumed frontrunner Hillary Clinton's potential vulnerabilities. "The Clinton Administration worked arm in arm with Alan Greenspan—who is, on economic matters, obviously, an extreme right-wing libertarian—on deregulating Wall Street, and that was a total disaster," Sanders told the New Yorker's Ryan Lizza. "And then you had the welfare issue, trade policies. You had the Defense of Marriage Act."
Sanders, who has his next Iowa trip planned for December, last week told C-SPAN that his decision would depend on the level of grassroots support that could be mustered for a potential campaign. "I want to run a good campaign and a meaningful campaign and a winning campaign," Sanders said. If he does run, he's said it would likely be in the Democratic primary, given the logistical hurdles involved in getting on the ballot in 50 states as an independent.
"I don't wake up every morning with a huge desire to be President of the United States," Sanders told me last year. "But what I do wake up believing is that this country is facing more serious crises than we have faced since the Great Depression." Among them, he said, are deepening income and wealth inequality, persistent mass unemployment, and looming environmental catastrophe. "The nature of media is that presidential campaigns and candidates are a means, to some degree at least, of getting these issues out there," Sanders said. While "you can give all the speeches you want on the floor of the Senate," he added, being on the campaign trail and on the debate stage "gives you the opportunity to talk about these issues in a way that you otherwise could not." Announcing a high-profile hire doesn't hurt, either, whether or not Sanders actually takes the plunge.
Before it's here, it's on the Bloomberg Terminal.
LEARN MORE