How New Balance Became Fashion's No-Risk Source for Sneaker Cred
by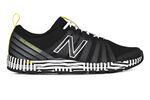 Kate Spade doesn't do sporty. The brand knows its way around preppy and colorful put-together looks, a fairly conservative combination that has helped fuel a relatively bonkers growth trajectory. With big expectations from both those who buys its handbags and those who buy its stock, the company now needs to expand—and there's little in its inventory fitting the hottest trend of the moment: athletic wear.
That's why Kate called up New Balance. Last week the company told analysts that New Balance is stitching up a special line of its WX711 and the coming WX811 in Spade's "signature bright colors and graphic prints." The shoes will start selling in February for $95 at both Kate Spade and New Balance stores.
"Obviously, there's this huge resurgence of athletic apparel in fashion and on the runway," said Sarah Kopriva, senior product manager for the New Balance women's business. "They were really looking to expand their brand to capture that."
J. Crew, a second relatively staid brand that has refused to jump on the trend of workout clothes for work, has long maintained a similar partnership with New Balance. The sneaker company declined to say whether the collaborations are more lucrative than their traditional products, though the co-branded shoes typically sell for a premium over standard models.
"The goal of this was not a financial goal to be completely honest," Kopriva said.
There's little sartorial risk involved on either side of these deals. New Balance was a so-called athleisure statement long before Lululemon was a funky little boutique in Vancouver. The shoemaker's chunky running shoes aren't usually spotted these days on someone who is actually running. New Balance customers seem more likely to be sipping, teaching, or coding—living everyday life, rather than working up a sweat. New Balance shoes have become a totem of geek-chic, adding a flair of preppy insouciance to a wide range of shoppers, from fashion bloggers to Rihanna. As a colleague of mine put it while discussing this piece: "They're like Subarus for your feet."
Kate Spade is also betting on the New Balance back story. Although the company makes plenty of shoes abroad, it still cranks out some of its higher-end offerings—roughly one in four of its shoes—not far from its Boston headquarters (though, the Kate Spade models will be made abroad).
In the retail world, footwear is risky. The various fits and styles require a pile of inventory and come with inefficiencies foreign to the supply chain of sweaters, for example. Kate Spade makes a lot of heels and pumps, but its sneaker game is sad. At the moment, offerings are limited to gold-dusted Vans knock-offs ($250) and a line of motley Keds ($85).
Athletic-wear is equally fraught. Workout clothes for working out are either a commodity or are dominated by Nike, Lululemon, and recently, Under Armour. The trend of wearing yoga pants to lunch could vanish before a company such as Kate Spade can pull together a leisure line.
New Balance sneakers offer a nice easy way to walk down the middle. For Kate Spade, they're, you know, comfortable.
Before it's here, it's on the Bloomberg Terminal.
LEARN MORE