What Worked (and What Didn't) in the GOP's 2014 Hunt for Black Voters
The Republican breakthrough didn't quite happen this year.
By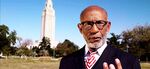 A few weeks before the midterm election, I profiled one of the Republican Party's most outspoken black converts, Louisiana state Senator Elbert Guillory. For more than a year, Guillory had been speaking at rallies, speaking at conferences, releasing viral videos about the need for black voters to bolt the "Democratic plantation." He wasn't naive enough to think that Republicans could win the black vote in 2014; he said only that he'd "drink Champagne" if the party cracked 15 percent of the black electorate.