What Worked (and What Didn't) in the GOP's 2014 Hunt for Black Voters
The Republican breakthrough didn't quite happen this year.
By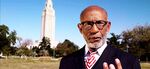 A few weeks before the midterm election, I profiled one of the Republican Party's most outspoken black converts, Louisiana state Senator Elbert Guillory. For more than a year, Guillory had been speaking at rallies, speaking at conferences, releasing viral videos about the need for black voters to bolt the "Democratic plantation." He wasn't naive enough to think that Republicans could win the black vote in 2014; he said only that he'd "drink Champagne" if the party cracked 15 percent of the black electorate.
The Champagne would stay in the bottle. According to exit polls, Senator Mary Landrieu won 93 percent of the black vote in her three-way Senate race. (She's facing a Dec. 6 runoff, having won only 18 percent of the white vote and failing to crack 50 percent overall.) In 2008, pre-Guillory, riding the Obama wave, Landrieu won 96 percent of the black vote. And if any black voters saw Guillory's ad and decided not to vote, they concealed that from the exit pollsters. Black voters made up 29 percent of the 2008 electorate; in 2014, they comprised 30 percent.
Guillory ran versions of his ad in Arkansas and North Carolina, too. The results were basically the same–terrible. In Arkansas, Democratic Senator Mark Pryor won 97 percent of the black vote, but he lost in a landslide with whites. If the polls are right, Pryor did even better with black voters than President Obama, who won 95 percent of their votes in 2008. (There was no presidential exit poll in Arkansas in 2012.) In North Carolina, Senator Kay Hagan won 96 percent of the black vote, exactly what she won in 2008. 
The Senate's sole black Republican, Tim Scott of South Carolina, won with just 10 percent of the black vote. 
Was the South just especially barren territory for Republican outreach to blacks? Sort of, yes. Guillory's push got less attention than the one Rand Paul spearheaded in Michigan. The Kentucky senator spent much of 2013 and 2014 trying to get the GOP right with black voters, appealing directly to them on sentencing reform and (to a lesser extent) voting rights, and hitting Detroit to open a Republican campaign office. The results were promising–well, more promising than Guillory's. In 2008 and 2012, President Obama won 97 percent and 95 percent of the Michigan black vote. In the latter year, Senator Debbie Stabenow was re-elected by a 20-point landslide with 94 percent of the black vote. This year, Senator-elect Gary Peters clobbered Terri Lynn Land, one of the worst Republican candidates of the cycle. 
Here's where it gets a little rosier for Republicans. Peters won 90 percent of the black vote. Mark Schauer, the Democrats' competitive but unsuccessful candidate for governor, won 89 percent of the black vote.  But Schauer won just 64 percent of the vote in Detroit's Wayne County, and Peters won 72 percent. Both underperformed the president's 2012 vote from Wayne, 73 percent–even though Peters' margin overall was 14 points, and the president's margin was 9 points.
Victory has 1,000 fathers, everyone's going to claim credit for anything that worked, etc, etc. But on first look, the Republicans did a little better reaching out to black voters in Detroit than in the places where they didn't target a central location with a pro-Republican policy message. (It's still inconclusive. Add Illinois to the South–Republican Bruce Rauner reached out aggressively to black voters, and saw his vote share increase to 7 percent, from the 6 percent won by the party's 2010 candidate. Questions for the Detroit GOP office were shunted to a state press secretary; questions for Guillory, the RNC, and Rand Paul's operation were not answered by mid-afternoon.)