Stilted Looks Reveal Hard Work Ahead as Abe Meets Xi
Bloomberg News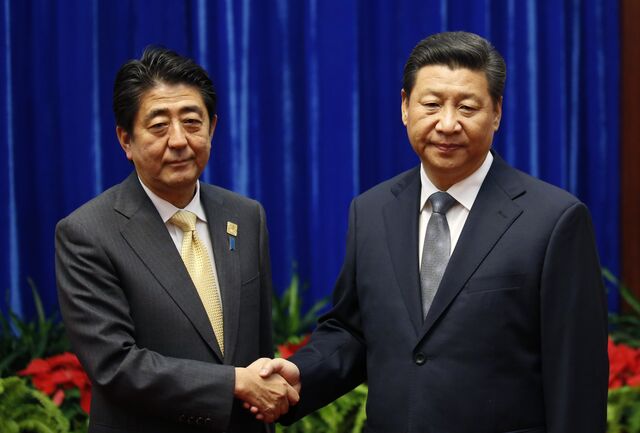 Japanese Prime Minister Shinzo Abe's long-sought meeting with Chinese President Xi Jinping was supposed to herald a fresh start to soured relations. Their body language told a different story.
The two men, both in gray suits, looked ill-at-ease as they shook hands for the cameras at the Great Hall of the People in Beijing before heading into a 25-minute discussion on the sidelines of a regional summit. The leaders of Asia's two biggest economies weighed each other up with stern faces, barely making eye contact after a two-and-a-half-year hiatus in formal top-level meetings caused by rows over territory and Japan's wartime past.
While Abe later told reporters the two had talked of greater cooperation and said it was the first step toward improving ties, China's official Xinhua News Agency pointed out Xi had granted the meeting at Japan's request. The frigid atmosphere captured in photos splayed across China's state-owned media was in stark contrast to those depicting a smiling reunion between Xi and South Korean President Park Geun Hye.
"The pictures and stories in official media are well chosen," said Qiao Mu, an international communications professor at Beijing Foreign Studies University. "The authorities did that to appeal to domestic nationalist sentiment, and to tell the public that their president is tough enough on Japan."
During the meeting Abe praised Xi's leadership of the Chinese economy and told him that Japan saw China's peaceful rise as an opportunity, Deputy Chief Cabinet Secretary Katsunobu Kato told reporters in Beijing. Xi urged Japan to do more to enhance mutual trust and play a constructive role in safeguarding the region's peace and stability, according to Xinhua.
Ballet Performance
Xi's expression softened when Abe told him about attending a performance of Chinese ballet in Tokyo last month, Kato said. Xinhua didn't report the remark and gave greater prominence on its website to a picture of Xi meeting the leader of Papua New Guinea -- with its population of 7.3 million -- than with Abe.
"I saw the images," Japan's Chief Cabinet Secretary Yoshihide Suga told reporters in Tokyo after the opening of the meeting was shown on television. "What should they have done? What's important is that they have overcome various problems and brought about a leaders' meeting."
Kato acknowledged that the discussions had come at Japan's request, with Abe dispatching a series of emissaries to China ahead of his visit to the Asia-Pacific Economic Cooperation forum in Beijing this week.
'Lemony Look'
"It's a fact that the prime minister has long been asking for a meeting," Kato said. "Quiet efforts have been made, leading up to this meeting."
The face-to-talks are an encouraging nod toward pragmatism even if it did look like a reluctant reconciliation, said Jeff Kingston, director of Asian Studies at Temple University in Tokyo.
"I think that their lemony look signals that there are tough challenges ahead in trying to renormalize relations," he said. "But it seems they have both come to the conclusion that bilateral relations are too important to hold hostage to a lesser issue."
— With assistance by Isabel Reynolds
Before it's here, it's on the Bloomberg Terminal.
LEARN MORE