Santorum Talking Foreign Policy and GOP Strategy
As he prepares a foreign policy address, the former senator warns that social conservatives should stick to their principles.
By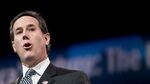 More evidence that with the midterm elections behind us, prospective presidential candidates are turning back to 2016: Former Senator Rick Santorum of Pennsylvania will deliver a foreign policy speech Monday morning to an expected crowd of thousands at Liberty University in Lynchburg, Va.  You can watch it here at 10:30 a.m. EST.
Santorum, who ran for president in 2012 and is considering another run, criticized Republicans who tacked to the left to position themselves better with swing voters on issues. In the Monday edition of his newsletter for Patriot Voices, his nonprofit group, Santorum said he was "extremely pleased" Republicans won a majority of the Senate but warned that social conservatives shouldn't cede their agenda to the business community.
"For too long, our focus has been only business owners and CEOs," Santorum wrote.  "These victories were much more of a criticism of President Obama than they were an endorsement of Republican policies.  We must now take the confidence we've earned from voters and ensure that our party is the voice of everyone on the economic ladder."