Obama and Xi Spar Over Rival Free-Trade Pacts at APEC Forum
By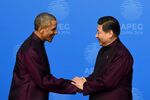 Following his party's recent midterm electoral rout, and facing an increasingly assertive China abroad, you might think President Obama would be in a conciliatory mood on his first visit to Beijing in five years. So far, that's not the case.
Just hours after arriving in China's capital to attend meetings of the 21-member Asia-Pacific Economic Cooperation forum and for an official state visit, Obama was hosting almost a dozen heads of state at the U.S. Embassy to try and jump-start negotiations for the Trans-Pacific Partnership (TPP), a free-trade pact.
"This has the potential for being a historic achievement," Obama said to leaders from Canada, Mexico, Chile, Japan, Australia, New Zealand, Brunei, Malaysia, Peru, Singapore, and Vietnam. "It's now up to all of us to see if we can finalize a deal that is both ambitious and comprehensive." Recently, the agreement has foundered over Japan's unwillingness to make its agricultural sector more open to foreign competition. No immediate breakthrough is expected.
Officials of APEC host country China were nowhere to be seen at the embassy meeting. That's because it's not being asked to join the proposed grouping of 12 countries, which together account for 40 percent of the global economy ($27.5 trillion) and one-third of world trade, according to a report published last year by the Brookings Institution.
The TPP pact is a central part of Obama's effort to pivot the U.S. toward Asia. For their part, China's leaders fear Washington aims to contain their country's rise. Sino-American tensions have grown "due to the so-called rebalancing to Asia-Pacific strategy of the United States," said a commentary published by the Xinhua News Agency today. "What the United States [has] done aroused suspicions in this region."
In response, China has been pushing for the creation of its own rival pact, the Free Trade Area of the Asia-Pacific. Speaking at the APEC CEO Summit, China's President Xi Jinping said his country will invest $1.25 trillion abroad over the next 10 years, and import more than $10 trillion in goods in the next five years. "As its overall national strength grows, China will be both capable and willing to provide more public goods for the Asia-Pacific and the world, especially new initiatives and visions for enhancing regional cooperation," Xi said, according to a report by Xinhua.
Later Monday afternoon, after the TPP meeting, Obama put on a friendlier face in an address to the APEC CEO Summit. The U.S. president announced the two countries plan to extend the duration of visas offered to students, tourists, and businesspeople, up from one year's duration to from five to 10 years. "We compete for business, but we also seek to cooperate on a broad range of challenges and shared opportunities," Obama said. "If China and the United States can work together, the world benefits."
Before it's here, it's on the Bloomberg Terminal.
LEARN MORE