Nestle Pits Insiders in Competition to Become Next CEO
Corinne Gretler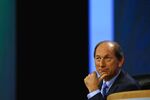 The last time Nestle SA chose an outsider as chief executive officer, the world's largest foodmaker was trying to recover from its first -- and only -- annual loss.
That was in 1922 and the Swiss firm has since preferred to spend years grooming management for the top job. A reshuffle in October now puts two insiders on track for the CEO post when current leader Paul Bulcke eventually leaves.
Ever since hiring Louis Dapples, a banker, to restructure the business after the loss, long-term succession planning has been a foundation of the company's strategy. The pattern has created a culture of stability which investors say allows Nestle to stick with decisions through challenging times, such as supporting the Nespresso coffee system through a troubled infancy before turning into a single-serve star that's become a best-selling product.
"Good talent management is worth gold," said Urs Beck, a fund manager at EFG Asset Management in Zurich. "Nestle conserves energy by not mixing too much fresh blood into a smoothly running operation."
When Chairman Peter Brabeck-Letmathe steps down in 2017, tradition would have Bulcke eventually succeeding him, opening his post to the duo that stepped into the limelight in last month's reshuffle: Chris Johnson, 53, was given the task of running a global efficiency program, while Laurent Freixe, 52, was entrusted with operations in North and South America.
Six chairmen before Brabeck were CEOs of the company first. Brabeck will step down from his role as he reaches the company's mandatory retirement age. A preference for inside talent is innate at the company, which only seeks outside candidates for 20 percent of management openings.
Nestle declined to comment on the company's succession planning.
Nescafe Cannibalization
Nestle has spawned hits like Nespresso, which had a sluggish first decade after then-CEO Helmut Maucher gave the project the go-ahead in 1986. Maucher protected Nespresso amid concern it might cannibalize Nestle's main business, instant coffee, and two decades later it became Europe's largest brand of single-serve coffee.
The downside of such confidence is sticking with something for too long, as Bulcke intimated last year.
"We were a company that really believes in our products, but sometimes belief may blind you," Bulcke told investors at a press conference last year, adding that Nestle would increasingly consider divesting underperformers.
Power Bar
He followed suit. Nestle owned the PowerBar sports nutrition brand for 14 years and Jenny Craig weight-loss services for seven before selling them after struggling to gain traction. Both acquisitions had been central to Brabeck's strategy of nutrition. The company has held on to its U.S. frozen-meal business, including brands like Lean Cuisine, even as sales have dropped in recent years.
Nestle's track record of smooth succession planning stands out from its rivals. Procter & Gamble Co. brought in A.G. Lafley for a second stint as CEO last year after his predecessor fell short on sales growth. Unilever went outside the company to hire Paul Polman, himself passed over for Bulcke's job at Nestle, in 2008.
Job Concern
"Bringing in outsiders makes everyone start looking over their shoulders, and that goes all the way down from senior management to the people working in factories," said Jon Cox, an analyst at Kepler Cheuvreux. "That unsettles people, and makes them more internally focused rather than driving the overall business."
Johnson and Freixe are lead candidates because they are both following the path of Bulcke, taking turns managing the company's largest region, according to analysts. The past three CEOs each toiled about 30 years at Nestle before their appointment, a tenure that both Freixe and Johnson have.
"Nestle is an old company that has paid attention to challenges of renewing itself," said Joseph Bower, a Harvard Business School professor. "The great thing about insiders is that they understand the company. They know how to use its strengths to accomplish remarkable things."
Too Insular?
Investors haven't always liked Nestle's insular CEO picks. The stock dropped 3.6 percent on the day that Bulcke, who started as a trainee in 1979, was appointed CEO. Analysts had expected Polman, who had joined Nestle from P&G, to be the heir apparent. Unilever hired Polman a year later and Nestle's shares are up 38 percent since Bulcke officially took over. The stock rose 0.2 percent to 70.45 Swiss francs at 9:22 a.m. in Zurich today.
Nestle's grooming insiders may lead to "groupthink," said William Ocasio, a Kellogg School of Management professor in Evanston, Illinois.
While Bulcke has given no indication that he plans to go anywhere soon, odds remain on him being succeeded by a seasoned veteran who spent more than half a lifetime at Nestle to help them navigate the market.
"Homegrown management gives Nestle freedom to focus on their own convictions, without worrying about short-term pressures," said Bank Vontobel AG analyst Jean-Philippe Bertschy.
Before it's here, it's on the Bloomberg Terminal.
LEARN MORE