Gunmaker, Pharmacist, Car Dealer: Meet the New Entrepreneurs in Congress
By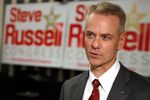 A car dealer, the owner of a string of independent pharmacies, and the founder of a company that makes replicas of Iraqi assault rifles: Those are among the small business owners elected to Congress earlier this month.
Voters sent at least 10 entrepreneurs to Washington on Nov. 4, according to Bloomberg News. That count doesn't include entrepreneur-candidates who won reelection, such as New York Republican Michael Grimm. It does include nine Republicans and one Democrat, Virginia's Don Beyer, whose family owns a string of car dealerships.
Most of the businesses aren't as exotic as Two Rivers Arms, the Oklahoma City-area firearms company owned by Steve Russell, a former Army lieutenant colonel who served in Iraq. The company sells replicas of weapons that Saddam Hussein's army used, known as Tabuks, which were knock-offs of the AK-47, according to the company's website. The models mimic "the look and feel of Iraqi domestic rifles and come with a replica Arabic rifle manual identical to the original issued to Saddam's troops," the Two Rivers website says. It also notes that they're "the closest thing to the rifles that the soldiers were not permitted to bring home as war trophies or souvenirs."
Georgia's Buddy Carter owns a more quintessentially Main Street enterprise: three drugstores in the Savannah, Ga., area. The new congressional class also includes a software entrepreneur (Iowa's Rod Blum), a beauty salon owner (Illinois's Mike Bost and his wife own one), the owners of investment companies (Arkansas's J. French Hill and Maine's Bruce Poliquin), the operator of a flight-training school (Georgia's Barry Loudermilk), a construction contractor (Georgia's Rick Allen), and a public relations man (Carlos Curbelo). All are joining the House of Representatives.
They'll add to a small business contingent on Capitol Hill that includes members of the bumper crop of entrepreneurs elected to Congress in 2010—33 won office that year. No surprise that small business owners have made successful candidates. Main Street businesses are among the most trusted U.S. institutions—behind the military and ahead of organized religion—according to a Gallup poll published this summer. There's also the matter of political participation: The U.S. has tens of millions of small business owners, and most of them say they vote in national elections.
What issues are the new lawmakers likely to tackle when they arrive in Washington? Main Street advocacy groups on the left and right often list solving legislative gridlock as the most important issue to their members. That raises another question: Will the new lawmakers behave like small business owners, or like Democrats and Republicans?
Before it's here, it's on the Bloomberg Terminal.
LEARN MORE