McDonald's October Sales Top Estimates as Declines Slow
Leslie Patton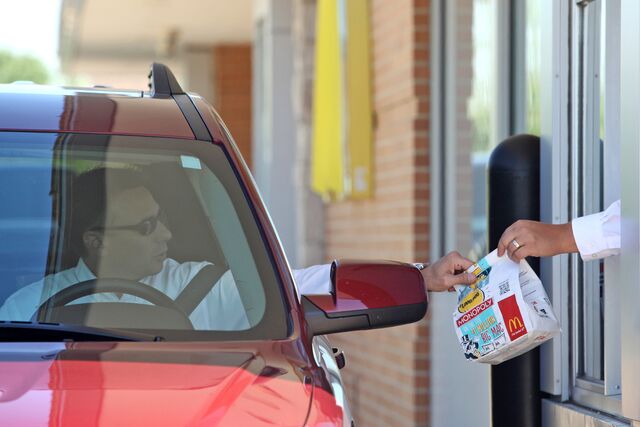 McDonald's Corp., the world's largest restaurant chain, posted October same-store sales that topped analysts' estimates, signaling that the company's turnaround plan is gaining momentum.
Global sales at stores open at least 13 months fell 0.5 percent, the Oak Brook, Illinois-based company said today in a statement. Analysts had estimated a 2.2 percent drop, according to Consensus Metrix. U.S. same-store sales fell 1 percent, an improvement from a 4.1 percent decrease in September.
McDonald's, which has more than 14,200 domestic locations, is coping with heavy discounting and mounting competition from fast-casual chains like Chipotle Mexican Grill Inc. To shake off its sales slump, McDonald's has been streamlining its menu, even as it offers more customized options. The company also is reorganizing its U.S. operations to be more effective.
October sales were "very encouraging -- the most encouraging I would say is the U.S.," said Peter Saleh, a New York-based analyst at Telsey Advisory Group. "The traffic trend improved from September to October."
The shares rose less than 1 percent to $95.11 at the close in New York. McDonald's has lost 2 percent this year, while the Standard & Poor's 500 Restaurants Index is little changed.
"The U.S. is revamping its marketing approach, simplifying the menu and creating a new organizational structure," the company said in today's statement.
The company didn't describe the organizational changes in the release. Lisa McComb, a spokeswoman, didn't immediately return phone and e-mail messages seeking comment.
Heavy Discounts
In the U.S., rivals have been cutting into McDonald's sales. Taco Bell, owned by Yum! Brands Inc., began selling breakfast items nationwide earlier this year and recently introduced a new mobile-phone application. Burger King is advertising more discounted foods, while Wendy's Co. said last week that sandwiches served on pretzel buns helped drive a third-quarter same-store sales increase.
"Consumers increasingly prefer customizable food options, dining in a contemporary, inviting atmosphere and using more convenient ways to order and pay for their meals," McDonald's Chief Executive Officer Don Thompson said in today's statement.
The company has been experimenting with a build-your-burger concept in California, which allows customers to choose their own toppings on a touch screen. It's also adding new technology, such as mobile ordering and payments.
At the same time, McDonald's is trying to entice customers with old favorites. The company is bringing back the McRib sandwich this month in about 75 percent of stores. And it's offering locally relevant fare, such as chorizo burritos in Chicago.
European Sales
McDonald's comparable-store sales fell 0.7 percent in Europe and 4.2 percent in the company's Asia Pacific, Middle East and Africa region. Analysts had estimated declines of 2 percent for Europe and 6.1 percent for Asia, according to Consensus Metrix, owned by Wayne, New Jersey-based Kaul Advisory Group.
McDonald's gets about 40 percent of revenue from Europe. Sales in the U.K., where its restaurants have been advertising toffee lattes and chocolate doughnuts, were "solid" in the quarter, McDonald's said.
Russia, meanwhile, is a growing challenge for the company. McDonald's has had to close locations in the country after consumer-safety regulators conducted inspections of the restaurants. Russian courts temporarily shut nine locations, the company said last month. Sales have been "very weak" in the country, McDonald's said today.
The chain also is facing a consumer backlash in China and Japan after supplier OSI Group LLC was investigated for altering the sell-by dates on certain foods. October same-store sales fell 17 percent in Japan, and the food scandal will probably have a prolonged effect, the company said last week.
Before it's here, it's on the Bloomberg Terminal.
LEARN MORE