London Gherkin Skyscraper to Be Purchased by Safra Group
Patrick Gower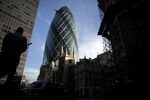 Brazil's second-wealthiest man is buying London's Gherkin skyscraper, adding to a procession of cash-rich investors seeking to obtain office properties in the British capital.
Joseph Safra, whose empire includes sole ownership of the Sao Paulo-based Banco Safra, agreed to acquire the conical office tower seven months after the previous owners lost control because of mounting debt, according to a statement today. Safra Group, a company he controls, will pay about 726 million pounds ($1.2 billion), a person with knowledge of the deal said.
Overseas investors including Qatar Investment Authority, Brookfield Property Partners LP and Singapore's GIC Pte Ltd. are pursuing London office properties on expectations rents will climb in the years ahead. Office rents in the City of London financial district, where the Gherkin is located, will climb 5.3 percent a year for the next five years, according to Savills Plc.
"A lot of sovereign wealth funds and big equity funds have all got billions to spend in the market, so wherever you see these big lot sizes come up there is a lot of competition," Simon Mallinson, executive managing director at property-research firm Real Capital Analytics Inc., said by phone.
Brookfield and Qatar last week approached Songbird Estates Plc, the owner of London's Canary Wharf financial district, about a possible takeover. The owner of 6.28 billion pounds of real estate rejected the proposed bid as too low.
London Landmark
The Gherkin tower at 30 St. Mary Axe has become one of London's best-known landmarks since it opened a decade ago. The building was one of the first skyscrapers in the city to earn a nickname and was used as a location for "Match Point," Woody Allen's 2005 movie. Its tenants include reinsurer Swiss Re Ltd. and Kirkland & Ellis LLP, a U.S. law firm.
Joseph Safra has an estimated net worth of $12.2 billion, according to the Bloomberg Billionaires Index. He comes from a family of Jewish financiers with roots in mid-19th century Aleppo, Syria. Working with his father, Jacob, and brother, Moise, Safra helped build a bank that brought their Middle Eastern financial expertise to the Brazilian market. Both have since died.
Last month, Safra Group and Brazil's Cutrale Group agreed to buy banana producer Chiquita Brands International Inc. for about $681 million.
Former Owners
A fund managed by IVG Immobilien AG, once Germany's biggest real estate company, and London-based Evans Randall Ltd. bought the Gherkin from Swiss Re for 600 million pounds in 2007. Deloitte took control of the building in April after the Swiss franc's appreciation caused some of the debt payments to balloon. Receivership is similar to U.S. bankruptcy protection.
The price is equivalent to a yield of about 3.8 percent, said the person, who asked not to be identified because the information is private.
"While only ten years old, this building is already a London icon that is distinguished from others in the market, with excellent value growth potential," Safra Group said in the statement.
Before it's here, it's on the Bloomberg Terminal.
LEARN MORE