politics
Is Biden Obama's Weapon or Weakness in the GOP Senate?
The president must weigh whether the vice president will be a useful negotiator in coming conflicts with the new Republican majority.
By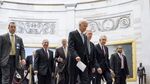 When Mitch McConnell won re-election last Tuesday night and learned that his title was about to get upgraded to Senate Majority Leader, one of the first calls to the Kentucky Republican came from the White House—but not from President Barack Obama. It was Vice President Joe Biden, calling with congratulations. Biden, 71, liberal and famously glad-handing, and McConnell, 72, the conservative and taciturn minority leader, served together in the Senate for more than two decades.
In 2010, 2011 and 2012, Biden swooped in at the 11th hour at Obama's behest to negotiate deals with McConnell to extend the Bush-era tax cuts, raise the debt ceiling and push the country away from the fiscal cliff. McConnell even called Biden his "dance partner," instigating a wave of press coverage about their close cross-aisle connection. "You want to see whether or not a Republican and a Democrat really like one another—well, I am here to tell you we do," Biden told an audience at the McConnell Center at the University of Louisville, where McConnell invited him in 2011 to speak about bipartisanship.
Biden will find nice things to say about just about anyone. The truth is, he and McConnell are not, and have never been, friends.
But amidst much talk of the necessity of compromise in Washington after the sweeping Republican triumph last week, their relationship is liable to be central to whatever transpires in in the coming months.
Ted Kaufman, a former Delaware senator and Biden's longtime political adviser, predicted Obama will empower Biden to look for areas of compromise with McConnell as well as with U.S. House Speaker John Boehner of Ohio. "This is an ideal situation for him because he has such a good working relationship with Boehner and McConnell and the president," Kaufman said.
And former McConnell chief of staff Janet Mullins Grissom added that McConnell and Biden are "two guys who, having spent their lives in the Senate, have a very deeply held respect for the institution and they understand the art of the deal. As far as I can tell, there is nobody at the White House that has that sensibility other than Vice President Biden right now."
For the Obama administration, however, one question is whether Biden will be a useful weapon in the coming conflicts or a loose cannon. Biden, even more than most vice presidents, loves the chance to be on center stage. And after months on the sidelines he may be tempted by the chance to play the hero. All that poses risks at a moment when, for the White House, discipline is crucial. In a much-discussed lunch at the White House with Obama and the congressional leaders from both parties, the president briskly shut Biden down after the vice president asked Republicans how much time they thought they'd need to pass an immigration overhaul, a question that ran against Obama's point that he's done waiting and is preparing to issue an executive order dealing with immigration because the House won't vote. It's that sort of unintentional sending of mixed signals that makes the White House nervous about the potential downsides of negotiating through Biden.
The prospect of Biden returning to the negotiating table clearly appeals to McConnell and his caucus. One Republican leadership aide told me they'd welcome the chance to work with Biden again. The White House had put Biden in the witness protection program for the past year, the aide said, because Democrats would rather push the narrative that McConnell is obstructionist than make deals, and that when Biden is out there, deals happen. Biden, in those 2011 remarks in Louisville, said he and McConnell "come from the same tradition" in which despite "significant disagreements" they recognize "the sincerity and intellectual grounding of the other man's position and the necessity of finding common ground."
A former Republican leadership aide familiar with the previous Biden-McConnell negotiations said Biden could be refreshingly candid about his own party—how he expected Nancy Pelosi, the House Democratic leader from California, to be angry about a concession he was prepared to make on estate taxes, or how upset he expected Reid to get about an aspect of a deal. Biden also was willing to talk about the rationale behind Democrats' specific objections during negotiations, not just their positions. The aide said Biden never put all the administration's cards on the table, but that he'd say enough to make discussions productive. Whether Obama lets Biden re-engage will be an indication of whether Obama really wants to pass legislation in the next two years, the Republican said.
A former Democratic leadership aide said this is what worries many Democrats: that Biden seems to have a tin ear for what today's Republican leadership is capable of and approaches negotiations as if these were still the glory days of bipartisan cooperation. Even if Obama doesn't empower Biden, the Democrat said, there's a fear McConnell may court the vice president on the side, and succeed, as a play to weaken Obama's position.
Senator Ron Johnson, a Wisconsin Republican, views Biden's role differently. "Is Joe Biden somebody that Mitch McConnell can work with?" he said. "Yes. It has been proven. But they only trot out Joe Biden at the last second and to make the compromise that President Obama seems unwilling to do himself."
Even in that period from 2010 through 2012 when Biden and McConnell and their aides were spending hours mostly by phone and occasionally in person, the Biden-McConnell relationship was, as one former Republican leadership aide put it, sporadic and born of crisis. Looking ahead to January, McConnell has already said he's not interested in governing in a crisis mode—no government shutdowns or threats of default on his watch—so he and Biden may need to learn a different dynamic. One former administration official also said even if Biden and McConnell can work together to close deals it's not realistic to start them in the first inning on winding talks about potential areas of compromise such as tax reform, infrastructure and education spending and immigration. That, the former official said, will need to be developed through more regular contact at the staff level between Republicans and the White House.
"Nobody knows the Senate better than the vice president," White House Chief of Staff Denis McDonough said in an interview Friday with Bloomberg's Al Hunt for the Charlie Rose program on PBS, and Biden's relationships are "a huge asset for us." But asked what sort of enhanced role Biden will play, McDonough said, "He and the president are working that out now." McConnell "has obviously developed a good working relationship with the vice president," the White House chief of staff said, "but the chief contact obviously will be the president."
---
Michael C. Bender contributed to this report.
Before it's here, it's on the Bloomberg Terminal.
LEARN MORE