Horton CEO Confronts Doubts Putting Builder's Sales First
John Gittelsohn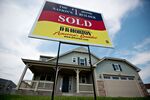 David Auld has spent more than 25 years at D.R. Horton Inc., rarely interacting with investors or analysts who follow the builder of more single-family homes than any other U.S. company.
Tomorrow, Auld, 58, will face their questions for the first time since his surprise promotion to chief executive officer of the Fort Worth, Texas-based builder, which also leads the industry by revenue. The company will report results for its fiscal fourth quarter at a time when its growth strategy diverges from competitors by prioritizing sales volume above profit margins.
"I don't think many people had met him at all prior to his promotion," said Megan McGrath, an analyst with MKM Holdings LLC who has covered D.R. Horton since 2008 and never met Auld. "As with any new CEO, we'll want to know if he's anticipating changing strategy."
U.S. homebuilders have struggled to grow amid tight mortgage credit and sluggish demand, even as the economy strengthens and housing affordability remains above the 25-year average. New homes sold at an annual rate of 467,000 in September, the fastest in six years while still 29 percent below the U.S. mean pace since 1963, according to Commerce Department data. The homeownership rate fell to its lowest level in 19 years in the third quarter, the Census Bureau said.
Wal-Mart Builder
D.R. Horton, which has described itself as the "Wal-Mart of builders" because of its efforts to cut overhead, has long focused on the pace of sales or what its executives call "absorption." Other companies, such as luxury-home builder Toll Brothers Inc., have put a higher priority on profit margins per sale.
"It's like the difference between selling a Honda and a luxury car," David Goldberg, an analyst with UBS AG, said in a telephone interview. "Horton's trying to drive a lot of product here."
Founded in 1978, it operates in 79 markets in 27 states and has sold more houses than any other builder every year since 2002, according to data compiled by Bloomberg. In April, it announced plans to target first-time buyers through its Express Homes line with prices starting at $120,000, a contrast with other public builders that have shifted their focus to move-up buyers with better finances.
Margins Narrowed
The Texas company re-emphasized the high-volume strategy last quarter, saying it stepped up incentives to increase sales as its profit margin narrowed. Credit for the approach was given to Auld by then-CEO Donald Tomnitz, who headed the company from 1998 until his Oct. 1 retirement.
"A lot of it had to do with David Auld coming up here and spending some time analyzing where we were and what we're doing," Tomnitz said during the July 24 earnings conference call. "What drove our incentives was we are committed to hitting our absorptions, and we believe by hitting our absorptions that we can deliver a higher return on inventory and a better return for investors."
Auld, who was promoted last November from Orlando-based regional president to become the first companywide chief operating officer, spoke without reading from prepared remarks for the first time on that conference call.
"What I have experienced out in the field for 25 years is that nothing drives margins higher than consistent absorption," he said.
Unhappy Investors
Investors didn't like what they heard. D.R. Horton plunged 11.5 percent, the biggest one-day drop in five years. It still hasn't fully recovered. The shares closed at $23.43 today, compared with $24.80 on July 23.
"Wall Street doesn't like surprises, and that was a little surprising," Goldberg said. The analyst, who hasn't met Auld, rates D.R. Horton a buy and expects earnings of 51 cents a share tomorrow.
The average of 14 analyst estimates compiled by Bloomberg is for net income of $178 million, or 48 cents a share, for D.R. Horton's fiscal fourth quarter. That compares with $139.5 million, or 40 cents, a year earlier.
In addition to the bottom line, analysts will be watching the builder's gross margin on sales, which fell to 20.7 percent in its last quarter, down 70 basis points or 0.7 percentage points from the year-earlier period. Future gross margins will fluctuate around the 20 percent range, depending on product mix, the company said.
Story Risk
"The risk to the story is if they come in lower," McGrath, who is based in Stamford, Connecticut, said in an interview. "I don't feel like the market is prepared for them to go down to 19, even though the company said they could."
Toll Brothers today reported better-than-expected sales for its fiscal fourth quarter, Jay McCanless, an analyst with Sterne, Agee & Leach Inc. in Nashville, said in a note to clients. McCanless raised his estimate for Toll's gross margin to 23.7 percent, a 0.2 percentage-point increase.
It would be a surprise for Auld to re-chart D.R. Horton's course, which is still guided by founder and Chairman Donald R. Horton, according to Alex Barron, an analyst with Housing Research Center LLC in El Paso, Texas. Barron met Auld once at a retreat for analysts on the Horton family ranch.
"Horton's still the man at the top," Barron said in a telephone interview. "Horton's name is on the door."
Tomnitz, who stepped down as CEO at age 66, will also stick around under a three-year, $3.6 million consulting agreement. Auld declined an interview request for this story.
"As typical and in accordance with our general company policy, David is not planning to do any interviews with the media," Jessica Hansen, D.R. Horton's head of investor relations, said in an e-mail.
Brief Bio
The company released a five-sentence biography that listed Auld's employment history and said he earned a bachelor's degree in accounting from Texas Tech University in 1978.
He and his wife, Gail, have been married for 34 years and have four grown children. He plays golf and rides a Harley-Davidson motorcycle for fun.
Auld was working as a commercial real estate lender in 1988 for Texas American Bank, where his customers included Donald R. Horton, when he was hired and sent him to run the builder's new Orlando branch. Horton is now the biggest builder in Central Florida, ahead of Miami-based Lennar Corp., the largest U.S. homebuilder by stock-market value.
Auld was promoted to president of D.R. Horton's east region in 2005, which accounts for about one-third of the company's homebuilding revenue. As the housing market collapsed and then slowly recovered, he maneuvered D.R. Horton to become the market leader in Atlanta, and Charlotte and Winston-Salem, North Carolina, according to Brad Hunter, chief economist for housing-research firm MetroStudy.
'Country Mile'
"Being No. 1 is the top thing for Horton," Barron said. "They want to be No. 1 by a country mile."
Auld usually preferred land with finished lots, where he could start selling houses within a couple of years rather than taking long-term risk on properties that require development approvals, according to Steve Flanagan, a broker with Land Advisors Organization in Orlando.
"He was very decisive, knew what he wanted and what he didn't want," Flanagan said in a telephone interview. "It was easy to deal with because there were very few maybes. It was yes or no."
D.R. Horton's total inventory of owned and optioned lots fell from 396,000 in 2006 to 108,700 in 2009 and grew back to 179,000 as of June 30. Even as the company slashed its holdings, usually by letting options expire, it maintained a foothold in most of its markets, then resumed building and buying ahead of competitors, said Jason Canin, an Orlando-area land broker for 22 years.
Orlando Lots
Last year, Auld made a $16 million deal for lots outside Orlando, shaking hands after a few minutes of discussion, said Canin, who represented the seller, Emerson International Inc. Horton quickly put the land to work, he said.
"They started models shortly after they closed and they're selling homes right now," said Canin, vice president of Charles Wayne Properties Inc. in Maitland, Florida. "When it comes to finished lots, they are the most aggressive buyer in this market."
Auld led three recent acquisitions of smaller builders to expand D.R. Horton's reach in the Southeast. In May, the company paid $210 million for Crown Communities Inc., Atlanta's largest homebuilder. It spent $35 million last October for Regent Homes Inc. in Charlotte and Winston-Salem, and bought Breland Homes, a builder in Alabama and Mississippi, in August 2012 for an undisclosed amount.
Auld was "prescient" to expand into Charlotte, one of the strongest markets in the Southeast, according to Tony Avila, a San Francisco-based investment banker who represented Regent.
"He's done an outstanding job," said Avila, managing principal of Encore Capital Management. "It was smart to promote from within."
Before it's here, it's on the Bloomberg Terminal.
LEARN MORE