Hong Kong Bourse Surges With Brokerages on Link Start Date
Anna Kitanaka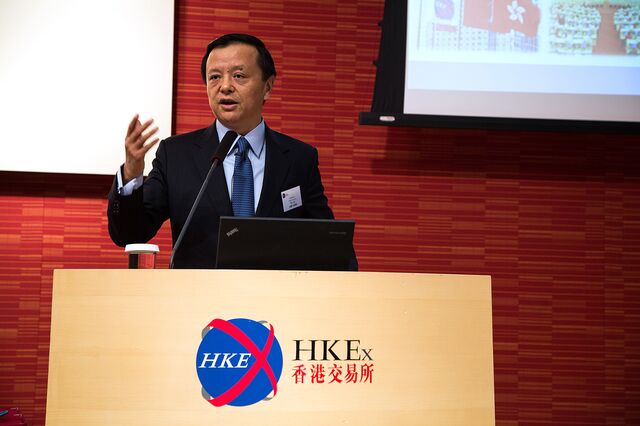 Hong Kong Exchanges & Clearing Ltd. surged with brokerages after regulators announced the long-awaited stock link with Shanghai will commence in a week.
Hong Kong's bourse operator jumped 4.6 percent to HK$183.60 at the close, its steepest gain since April 11 when the trading link was first announced. The stock is the best performer this year on the benchmark Hang Seng Index, which today gained 0.8 percent. Haitong Securities Co. advanced 2.5 percent to HK$13.92, while China Galaxy Securities Co. added 2.9 percent to HK$6.75.
The exchange link between Hong Kong and Shanghai will debut in a week, regulators said in a joint statement today, giving foreign investors unprecedented access to China's $4.2 trillion equity market. The start date had been expected last month after HKEx head Charles Li said the program would likely kick off on a Monday in October.
"The street has been waiting since the April announcement, and brokers have been ready since October 27th," said Gavin Parry, managing director of Parry International in Hong Kong. "This is a sentiment positive for Hong Kong."
The Shanghai-Hong Kong Stock Connect permits international money managers to purchase a net 13 billion yuan ($2.1 billion) a day of Chinese shares, while also providing a route for mainland investors to buy Hong Kong equities.
Chinese authorities are close to outlining taxation rules for investors who buy mainland shares through the exchange link with Hong Kong, K.C. Chan, the city's secretary for financial services, said today.
Before it's here, it's on the Bloomberg Terminal.
LEARN MORE