Hong Kong Banks Wave Fees, Jostle for Stock-Connect Cash
Alfred Liu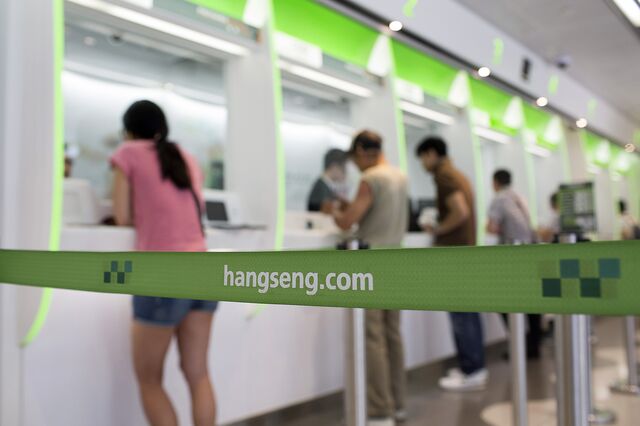 Banks in Hong Kong wrestling for a share of the spoils from a stock-trading link between the city and Shanghai are waiving fees and even offering gold medals as prizes to lure customers.
Hang Seng Bank Ltd. and Bank of China (Hong Kong) Ltd. will temporarily drop some brokerage fees, the rivals said in separate statements yesterday. Lucky draws for a limited-edition gold medal are among incentives offered by the Hong Kong arm of Bank of China Ltd. Brokerages and lenders jumped today on potential benefits from the link.
The program to open up China's $4.2 trillion stock market will allow a net 23.5 billion yuan ($3.8 billion) of daily cross-border purchases. Within hours of regulators saying yesterday that the link would start on Nov. 17, lenders were announcing deals to try to boost their share of the business.
"The banks think if they don't fight for more market share now, they will never get the business back," said Francis Lun, chief executive officer of Hong Kong brokerage Geo Securities Ltd. "Nobody wants to lose out in the initial phase."
Offers from Bank of China (Hong Kong) include three-month brokerage fee waivers, deals on interest rates for yuan deposits, and a chance to win a gold medal with each 100,000 yuan converted from Hong Kong dollars. Hang Seng's attractions include a waiver through March next year on brokerage fees for buying and selling Shanghai stocks.
Shares Jump
In Shanghai, Bank of China rose 9.8 percent as of 10:51 a.m., heading for the biggest gain since 2008, while Industrial & Commercial Bank of China Ltd. climbed 3.8 percent and Haitong Securities Co. jumped 4.8 percent.
"As investor sentiment gets a boost from the Shanghai-Hong Kong stock connect announcement, banking shares will benefit," Richard Cao, a Shenzhen-based analyst at Guotai Junan Securities Co., said by phone. While Bank of China and ICBC said yesterday that they had been approved to handle settlements for the stock connect, such business is "a very small part" of banks' operations, Cao said.
In another example of customer incentives, China Citic Bank International Ltd. will offer six months of trading commission free and discounts as high as 0.2 percentage point on yuan foreign exchange, according to a statement from the lender. The company is 70 percent owned by China Citic Bank Corp., with the rest held by Spain's Banco Bilbao Vizcaya Argentaria SA.
QFII Program
The Shanghai Composite Index climbed 2.3 percent yesterday, the most since July 28, after the statement on the trading link. It was up 0.8 percent today. Shares of Hong Kong Exchanges & Clearing Ltd. surged 4.6 percent yesterday. They slipped 0.3 percent today.
The Shanghai connect will expand access to Chinese shares from a limited number of institutions to anyone with a Hong Kong brokerage account. The $64 billion Qualified Foreign Institutional Investor program has allowed professional money managers to buy Chinese securities since 2002, while a similar system using offshore yuan began in 2011.
The exchange link is one of China's biggest steps toward opening up the capital account, increasing use of the yuan and turning Shanghai into an international financial center. It will give foreign investors greater access to Chinese companies tied to the nation's consumer market, which President Xi Jinping is counting on to reduce the dependence of the world's second-largest economy on exports and infrastructure spending.
Standard Chartered Plc saw "immense opportunities" across products including trading, custodian services, cash and foreign exchange, Benjamin Hung, the bank's Greater China chief executive officer, said in a statement yesterday.
The trading link "will have a deep and game-changing impact on the world's equities and financial markets," Hung said.
Before it's here, it's on the Bloomberg Terminal.
LEARN MORE