Can the 'Ryanair of Latin America' Cobble Together a Region?
by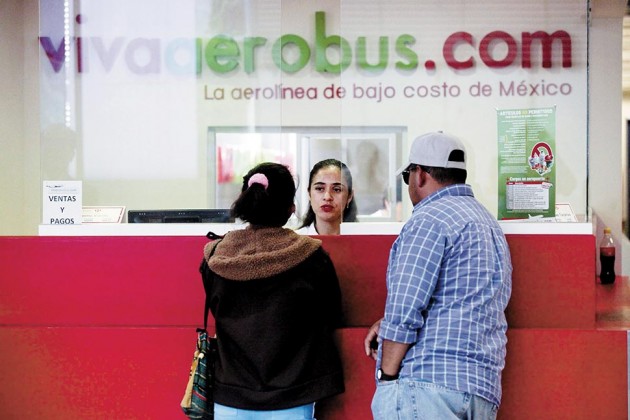 Low-cost airlines have flourished around the globe, except for one notable place: Latin America. The budget carriers of Mexico and Brazil don't offer the low fares of Ryanair in Europe or Spirit Airlines in the U.S.
Now the investment group that developed Ryanair and Singapore-based Tiger Airways is looking at Latin America as a massive opportunity for low-cost carriers. That's because from Mexico to Peru, buses still meet the needs of the Spanish-speaking travel market, and regional airlines historically have been too expensive to become an option for mass travel. "This is something whose time is long overdue," says Joe Mohan, president of Grupo Viva, a holding company that operates two airlines—VivaColombia in Colombia and VivaAerobus in Mexico—and plans to launch a third next year. The company declines to say where. (In Brazil, the lack of a low-cost option has drawn the attention of JetBlue founder David Neeleman and his latest startup, Azul.)
Government bureaucracy, taxes, airport fees, and other costs have made the region a thorny proposition for airline business models built on having the cheapest possible expense base. And in recent years, Mohan says, "across Latin America there's been a decoupling of [the area's] dependence on the U.S.," with more trade and tourism occurring within the region than before. Governments have also been interested in developing aviation to spur economic growth. "For low-cost carriers, it's key for them to educate governments," he said.
Mohan, a former Continental Airlines executive, joined Grupo Viva this summer from Copa, where he helped plan the Panamanian carrier's explosive and profitable growth. His departure from Copa came as part of a restructuring overseen by Grupo Viva's owners, Irelandia Aviation and Grupo Iamsa, Mexico's largest bus operator. Dublin-based Irelandia established Ryanair in 1985; its managing partner is Declan Ryan, a co-founder of the Irish budget airline.
"This is the Ryanair of Latin America," says Mohan, who's expected to succeed Tony Davis as chief executive officer next year. Davis is the former CEO at Tiger Airways, a low-cost startup in Singapore that Irelandia has also backed.
With 120 million people, Mexico is the second-largest market in Latin America. It's also home to two other carriers that style themselves as discount airlines, although neither targets the short-haul, ultra-low-cost segment that anchors VivaAerobus's business plan. Volaris offers free drinks and snacks, while Interjet is further upscale with free checked bags and only 150 seats on its Airbus jets, the same as JetBlue. (Interjet also designates a lavatory on each plane for use only by women.)
There is, of course, Grupo Aeromexico, the country's dominant international airline, also competing on almost all the same routes. Last week, JetBlue asked U.S. regulators for permission to begin flights to Mexico City next summer from Orlando and Fort Lauderdale. Currently, Cancun is the airline's only destination in Mexico.
All this flying has created a situation where the growth in Mexico's gross domestic product typically lags the capacity ambitions of its airlines, which struggle for profitability. That was one reason Grupo Viva Aerobus delayed its initial public offering in February and decided to restructure, shifting its business to a Panama-based holding company.
"The group structure is a hedge against individual country risk," says Mohan, who studied economics at the University of Florida. A Grupo Viva IPO is still in the cards, probably after the company launches several more airlines—a process that Mohan says will become "almost turnkey" as the company begins taking more of the 52 Airbus A320s it's ordered.
The company has a fleet of 24 jets, most of them in Mexico, and stuffs 186 seats on its A320s, three dozen more than Interjet and JetBlue do on the same plane. It plans to price most one-way fares at $100 or less. Next month, VivaAerobus will begin new flights from Monterrey, Mexico, to San Antonio and Houston. It also plans to fly to Las Vegas from Monterrey four days a week and to announce a fourth U.S. destination.
Mohan says Grupo Viva considers at least five Latin American nations attractive for expansion, declining to identify which countries the group expects to enter. Argentina and Venezuela are "complicated" because of their governments, and the company is likely to avoid behemoth Brazil, which not only has a different language but also an aviation market that Azul and others are rapidly dominating. "It's not a market we need," Mohan says. "Cuba could be an interesting place."
Before it's here, it's on the Bloomberg Terminal.
LEARN MORE