European Stocks Climb Amid Earnings; Carlsberg Advances
Inyoung Hwang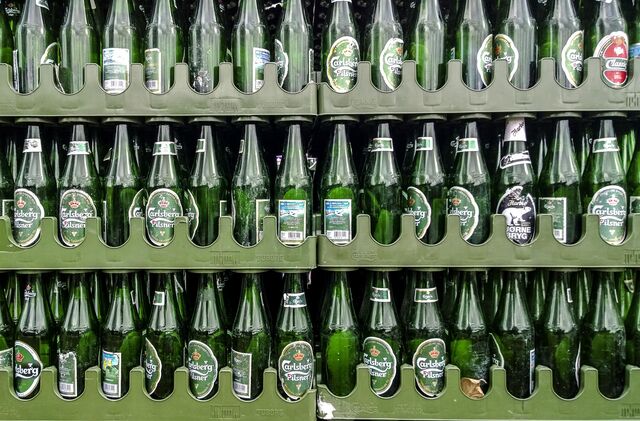 European stocks advanced, after posting a weekly decline, as investors weighed corporate results from companies including Carlsberg A/S and Lonmin Plc.
Carlsberg added 3.1 percent after Russia's biggest brewer said its markets share improved in the country as it reported better-than-expected third-quarter profit. Lonmin climbed to its highest price in seven weeks after saying it didn't see the need to raise funds this financial year. Nutreco NV jumped 14 percent after a Dutch investment company raised its bid for the animal-feed maker by 11 percent, fending off a rival approach by Cargill Inc.
The Stoxx Europe 600 Index rose 0.7 percent to 337.71 at the close, extending gains in the last 90 minutes of trading. The gauge lost 0.5 percent last week as banks retreated, and European Central Bank President Mario Draghi said policy makers are unanimous on boosting monetary stimulus if needed, while warning that the ECB may have to downgrade outlook forecasts. A contrarian sentiment index for Europe from BNP Paribas SA extended a four-year low, indicating that stocks will rally.
"We've had strong earnings compared with OK macro numbers," Henrik Drusebjerg, the Copenhagen-based chief strategist at Carnegie Investment Bank AB, said by telephone. "I'm still a moderate optimist. We see a slow but improving world economy, which is strongest in the U.S., but there are signs of things getting better on a global scale. My main concern is Europe, but then again, Draghi seems headed towards quantitative easing and if necessary, he will do more."
Corporate Earnings
BNP's European "Love-Panic" sentiment gauge fell to minus 35.65, signaling the equity market is in buy territory, and implying gains of as much as 20 percent over the next six months, according to Martial Godet, a strategist at BNP Paribas.
Investors are watching corporate results this week, with some 68 companies in the Stoxx 600 reporting. Analysts expect earnings to grow 7.5 percent this year, up from their October projection of 7.2 percent.
National benchmark indexes rose in 15 of the 18 western European markets today. The U.K.'s FTSE 100 added 0.7 percent, France's CAC 40 climbed 0.8 percent, and Germany's DAX gained 0.7 percent.
Carlsberg added 3.1 percent to 525.5 kroner. The Copenhagen-based company said earnings before interest, taxes and one-time items were little changed at 3.39 billion kroner ($570 million) for the three months through September. The average analyst estimate was for 3.36 billion kroner. Quarterly sales advanced 4 percent to 18.1 billion kroner, topping the average estimate of 17.8 billion kroner.
Lonmin Gains
Lonmin climbed 4.1 percent to 195 pence. Chief Executive Officer Ben Magara said he saw no need to raise funds as the world's third-largest platinum producer recovers from a five-month strike. Lonmin accumulated net debt of $29 million in the three months through September as it returned operations to full production after the strike that ended June 24, it said. Lonmin also reported a loss of $188 million for the year ended Sept. 30, compared with a profit of $166 million a year earlier.
Nutreco increased 14 percent to 45.05 euros, its highest price since at least 1997. SHV Holdings NV raised its bid to 2.99 billion euros ($3.7 billion). Nutreco agreed to the sweetened offer of 44.50 euros a share and rejected Cargill's bid of at least 43.20 euros a share, as the Minneapolis-based company planned to break up the business with private-equity company Permira, Nutreco and SHV said today.
Fugro NV surged 49 percent to 21 euros. The Dutch deepwater-oilfield surveyor said it wants to continue as an independent company after Boskalis Westminster NV bought an unsolicited stake of 14.8 percent. Fugro said it wants talks for a partnership for its subsea division with interested companies, including Boskalis.
Kabel Deutschland
Kabel Deutschland Holding AG gained 1.7 percent to 109.80 euros. Germany's largest cable operator said second-quarter sales rose 6 percent and adjusted earnings before interest, taxes, depreciation and amortization increased 4.9 percent.
Serco Group Plc tumbled 32 percent to 215 pence. The U.K. government-services company cut its operating profit outlook for 2014 to no more than 140 million pounds ($222.4 million), after previously forecasting no less than 155 million pounds. It also said it could pay impairments of 1.5 billion pounds, announced a rights offering of as much as 550 million pounds, and warned the next two years are going to be difficult.
Before it's here, it's on the Bloomberg Terminal.
LEARN MORE