Ernie Vandeweghe, Knicks Player Turned Physician, Dies at 86
Mason Levinson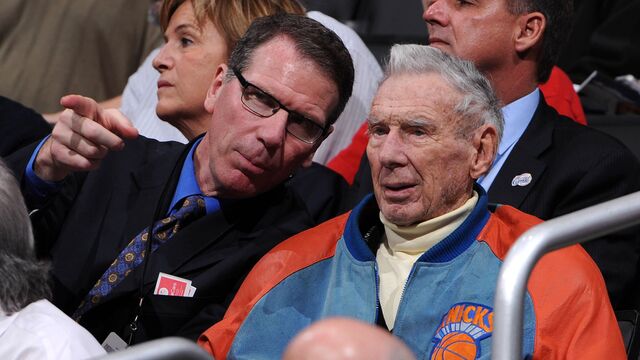 Ernie Vandeweghe, who attended medical school while playing for the New York Knicks and raised a family of world-class athletes including a son, Kiki, who also played for the Knicks, has died. He was 86.
He died on Nov. 8, according to a Facebook post by his granddaughter Coco Vandeweghe, a professional tennis player. His death occurred at home in Newport Beach, California, the result of natural causes, Kiki Vandeweghe said, according to the Associated Press.
"I am so lucky to have spent so many years with him learning and growing," his granddaughter said on Facebook. "He is now in a better place with his beloved wife. He will be missed dearly."
Vandeweghe played six seasons for the Knicks of the National Basketball Association from 1949 to 1956. The team reached the NBA Finals each season from 1951-53, losing each time. In his collegiate career, at Colgate University in Hamilton, New York, he was the school's only All-America basketball player, receiving the honor in 1947, 1948 and 1949, according to the Colgate Hall of Honor website.
A 6-foot-3 right-hander who mostly played guard, Vandeweghe averaged 9.5 points and 2.4 assists per game coming off the bench for the Knicks.
Ernest Maurice Vandeweghe Jr. was born on Sept. 12, 1928, in Montreal. He attended high school in Oceanside, New York, on Long Island, and after playing at Colgate was selected by the Knicks in the third round of the 1949 Basketball Association of America draft, just before its merger with the NBA.
Dr. Vandeweghe
Vandeweghe played for the Knicks while studying medicine at Columbia University. He had a contract that allowed him to miss road games to western U.S. cities to accommodate his medical training, according to "The Rise of the National Basketball Association," David George Surdam's 2012 book.
After retiring he became a pediatrician. He started practicing as a physician at a U.S. Air Force hospital in Wiesbaden, Germany, and later moved to Los Angeles, according to John Grasso's "Historical Dictionary of Basketball" (2011).
In 1953, Vandeweghe married Colleen Kay Hutchins, who was Miss America the previous year. She died in 2010. Their son, Ernie Vandeweghe III, known as Kiki, played in the NBA for 13 seasons and was a two-time All-Star; their daughter Tauna was a swimmer who competed at the 1976 Montreal Olympics; their son Bruk won a bronze medal in beach volleyball at the 1994 Goodwill Games; and their daughter Heather was a national women's polo team captain.
Before it's here, it's on the Bloomberg Terminal.
LEARN MORE