Early Auctions Total $673 Million as Bag Sculpture Sells
Mary Romano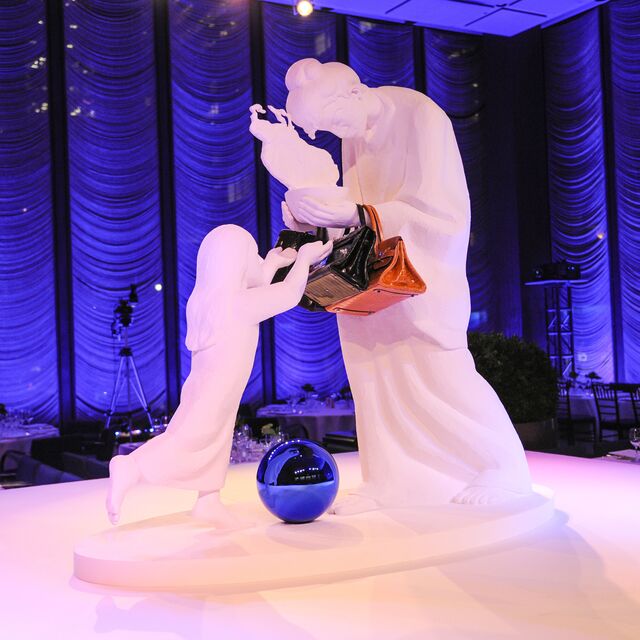 An almost 6-foot-tall Jeff Koons white plaster sculpture of a woman holding three Hermes Birkin bags sold for $4 million last night at a charity auction in New York, 60 percent more than similar works fetched in the past.
The sale of "Gazing Ball (Charity)" followed last week's tally of $673 million for Impressionist and modern art sold at Manhattan auctions, setting the stage for a potential record season if high prices continue this week.
"I'm long-term bullish on the art market," Rajiv Chaudhri, president of Sunsara Capital LLC in New York and an art collector, said at the event at the Four Seasons restaurant in New York. "Prices will keep moving up. There is still so much private wealth being created. Art is the ultimate asset."
Global collectors have been pushing up prices for top-name artists in recent years. If this week's New York auctions at Christie's, Sotheby's and Phillips reach their high estimates, the total for the two-week season would be about $2.2 billion. That would surpass last November's $1.8 billion sales of Impressionist, modern, postwar and contemporary art in the city, and match the total from this May.
Sotheby's Nov. 4 Impressionist and modern art evening sale produced its biggest result ever for the 270-year-old auction house, with a total of $422 million led by three pieces. Alberto Giacometti's 1951-52 "Chariot" sculpture fetched $101 million, Amedeo Modigliani's sculpture "Tete" went for $70.7 million and Vincent Van Gogh's wildflower painting sold for $61.8 million. Including its day sales, Sotheby's tallied $470 million last week.
Rothko, Warhol
Postwar and contemporary art up for sale this week at Sotheby's, Christie's and Phillips may produce bigger results. Christie's auctions on Nov. 12 and Nov. 13 have a high estimate of $873.6 million for the day and evening sales.
At the evening event, British collector Frank Cohen is selling his Koons sculpture "Balloon Monkey (Orange)." The 2006-2013 stainless steel work is estimated at $20 million to $30 million.
Sotheby's tonight is selling a group of 43 artworks from the estate of American socialite Bunny Mellon that is estimated at $82.9 million to $120.1 million.
Tomorrow night, Sotheby's will offer Mark Rothko's 1951 canvas "No. 21 (Red, Brown, Black and Orange)" for an estimated $50 million, and a rarely seen Andy Warhol silkscreen of actress Elizabeth Taylor, estimated at about $30 million.
Barrymore, Blige
Last night's charity auction and dinner, attended by 250 people including actress Drew Barrymore, model Naomi Campbell and art dealer Larry Gagosian, raised $5.5 million for a United Nations Foundation campaign to provide vaccinations for children. The auction was organized by Project Perpetual, an initiative started by art collector Svetlana Kuzmicheva-Uspenskaya that combines art and philanthropy. Singer Mary J. Blige sang a U2 song, "One," to the crowd as they dined on wild mushroom risotto and beef fillet.
Koons's sculpture was inspired by a 1902-1903 Pablo Picasso painting of a woman giving a child a bowl of soup titled "La Soupe."
"I'm really thrilled how it all went," Koons said in an interview after the auction. "It's fantastic. People were really supportive."
Koons also created eight wall sculptures that use Hermes Birkin bags as objects on mirrors. The bags, named for actress Jane Birkin, have a waiting list for buyers and cost thousands of dollars. The handbags were donated by celebrities including movie director Sofia Coppola, whose bag was featured in a piece that sold for $175,000.
Coppola said in an interview at the event that her father, the movie director Francis Ford Coppola, had given her a Birkin bag as a gift and that she rarely used it.
"It was in my closet for a long time," she said. "It's very decadent so I'm happy it's now an art piece."
Before it's here, it's on the Bloomberg Terminal.
LEARN MORE