China Factory-Gate Prices Decline for Record 32nd Month: Economy
Bloomberg News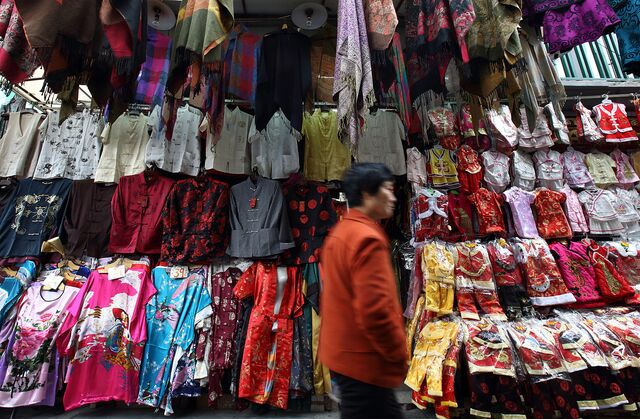 China's factory-gate prices fell for a record 32nd month in October and consumer prices remained subdued, raising pressure on policymakers to bolster the world's second-largest economy as disinflation spreads.
The producer-price index dropped 2.2 percent from a year earlier, the National Bureau of Statistics said in Beijing today, compared with the median projection of a 2 percent decline in a survey of analysts by Bloomberg News. Consumer prices rose 1.6 percent and the rate was unchanged from the prior month and matched economists' estimates.
China's economy, burdened by overcapacity and weak domestic demand, is headed for the slowest full-year growth in more than two decades. Lower oil and metals prices are cutting costs at the factory gate, allowing China's exporters to reduce prices and adding to deflationary pressures globally.
"China's domestic demand remained soft and dis-inflationary risks are on the rise on the back of falling global commodity prices," said Chang Jian, chief China economist at Barclays Plc in Hong Kong. "Subdued inflation offers room for more PBOC easing, but broad-based monetary easing will more likely to be triggered by disappointing growth numbers, which we will likely see in the coming months."
Chang said she expects the PPI drop will continue to 2015.
Purchasing prices of fuels fell 3.8 percent in October from a year earlier, while ferrous metals costs dropped 6.9 percent, the NBS data showed. Prices of all nine components dropped.
Oil Slump
Oil prices have slumped into a bear market amid speculation of a global glut, slowing drilling at U.S. shale formations. Producers in the Organization Of Petroleum Exporting Countries are responding by cutting prices, resisting calls to reduce supply as they compete with the highest U.S. output in three decades.
"The extended drop in the PPI is affected by the prolonged decline of global oil prices and overcapacity in some domestic industries," Yu Qiumei, a senior statistician at the NBS, said in a statement today.
Eighteen of China's 31 provinces and municipalities reported a nominal growth rate lower than the price-adjusted level for the first nine months of this year, signaling deflation. China's imports moderated to a 4.6 percent increase in October from September's 7 percent gain, according to data released by General Administration of Customs over the weekend.
"China has entered into a dis-inflation process with rising deflation risk," analysts at Australia & New Zealand Banking Group Ltd. in Hong Kong led by Liu Li-Gang wrote in a note today. "This is a significant risk facing China's economy, which requires China's policy makers to monitor the situation closely and take actions swiftly."
Liquidity Injections
The central bank could conduct liquidity injections via different policy instruments more frequently, while fiscal policy will be "proactive," the ANZ Bank analysts wrote.
The People's Bank of China, which has refrained from across-the-board interest rate cuts, confirmed liquidity injections into banks in the third quarter in a report last week. It also cut the interest rate it pays lenders for 14-day repurchase agreements in September and October.
The yuan strengthened today after the central bank raised the yuan's reference rate by the most since June 2010.
The currency was also boosted by the announcement that a Shanghai-Hong Kong stock exchange link will open on Nov. 17. The PBOC raised its daily reference rate for the yuan by 0.37 percent to 6.1377 per dollar, the strongest since March 19.
"Subdued inflation, lower capacity utilization and excessive inventories all indicate that the world's second-largest economy is now running below its full capacity," said Qu Hongbin, chief China economist at HSBC Holdings Plc in Hong Kong. "Targeted easing aside, a rate cut is still a policy option in coming quarters, especially when dis-inflationary pressure filters through into the labor market."
— With assistance by Xiaoqing Pi
Before it's here, it's on the Bloomberg Terminal.
LEARN MORE