Bush Senior Considered Passing on a Second Term
George W. Bush says his father will be remembered as "a great one-term president."
By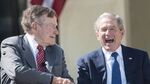 Among the revelations in George W. Bush's new biography of his father is that George H.W. Bush considered not running for a second term in office.
The biography, called 41: A Portrait of  My Father, is due out Tuesday. In it, Bush writes that his father confessed on a fishing outing that he was thinking about not seeking reelection. Bush recalled that he advised his father that he had "a lot left to do."
The younger Bush appeared on NBC's "The Today Show" in a segment that aired  Monday to promote the book, saying that history will recall his father "a great one-term president."
He is admittedly biased, calling the book "a love story." In it, he discusses the elder Bush's sadness after losing his second term to Bill Clinton in 1992, as well as the friendship that eventually grew between the former adversaries.
In the NBC interview, he talked about how his own friendship with Clinton could survive a potential presidential matchup between his brother, Jeb, and Hillary Clinton. He also talked about his brother's weighing the possibility. 
"I think in his soul, he knows he can do the job," he said. "No matter who says he should run, he knows he's going to make up his mind based upon what he thinks is right for his family."
In a reading published by USA Today, Bush said he was inspired to write the book by the daughter of historian and biographer David McCullough. She told him that her father laments that there are no detailed works by John Quincy Adams about his own father.  She suggested that Bush write about his own father.
"We're the only sons of presidents who  have served as presidents ourselves," Bush writes. "'For history's sake,'  she said, 'I think you should write a book about your father.'"