After CSX Settlement, More Trial Lawyers Will Be Sued Under RICO
Paul M. Barrett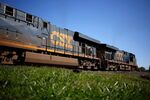 A $7.3 million legal settlement favoring the railroad CSX Transportation has corporate advocates celebrating. That's because the case—stemming from asbestos litigation in West Virginia—vindicates CSX's strategy of using the federal anti-racketeering statute as a weapon to combat corrupt plaintiffs' attorneys.
"CSX deserves a great deal of credit for its courage in turning the tables on these perpetrators of fraudulent asbestos litigation," said Sherman Joyce, president of the American Tort Reform Association, a corporate lobbying group in Washington, D.C. "This successful RICO litigation now serves as a model for other corporate defendants that have been plagued by such fraud for decades." RICO refers to the Racketeer Influenced and Corrupt Organizations Act, a 1970 law originally meant to be used against organized crime syndicates but that has civil provisions and has morphed into a multipurpose tool in private lawsuits.
In a separate dispute involving far larger stakes, Chevron obtained a federal ruling in March that found a New York plaintiffs' attorney liable under RICO and prohibited him from benefiting from a $9.5 billion oil pollution judgment deemed to have been the product of extortion and fabricated evidence.
CSX initially filed RICO allegations in 2007 against a pair of asbestos plaintiffs' attorneys and an allied radiologist, accusing them of conspiring to bring fraudulent injury claims against the company. In 2012, a federal jury in West Virginia agreed and awarded CSX $429,000 in damages, an amount tripled by the trial judge, as provided by RICO. Combined with the company's legal fees, the total judgment against the trial lawyers and doctor came to $7.3 million.
The plaintiffs' attorneys—Robert Pierce and Louis Raimond—and the estate of the since-deceased radiologist appealed, arguing that a corporate defendant should not be allowed to use the RICO law in this fashion. During oral arguments earlier this year, a panel of the U.S. Court of Appeals for the Fourth Circuit in Richmond, Va., seemed skeptical of the suggestion that attorneys accused of manufacturing injury claims were somehow immune from the reach of RICO.
Last week, before the appellate court issued a ruling, the plaintiffs' lawyers filed papers dropping their appeal. CSX announced it would receive the full $7.3 million amount in a settlement. The company said it would drop demands for additional attorney's fees and other costs.
"Fraud in injury claims degrades the U.S. system and makes it harder for truly injured persons to be treated fairly," Ellen M. Fitzsimmons, executive vice president for law and public affairs at CSX, said in a written statement. She said the proceeds from the settlement would be donated to the CSX Foundation and used for philanthropic purposes. Lisa Rickard, president of the U.S. Chamber Institute for Legal Reform, joined the applause. "We commend CSX Transportation for pushing back against the endemic fraud and abuse in asbestos litigation," she said in a statement.
Now attention turns to the Chevron case. In that clash, environmental activist and plaintiffs' attorney Steven Donziger is appealing a ruling that he used phony scientific evidence, as well as coercion and bribes, to engineer a $19 billion oil contamination judgment in 2011 in Ecuador. (The 2011 pollution judgment was upheld by Eucadorian appellate courts, but the damages were halved to $9.5 billion.)
Donziger denies wrongdoing and contends that the U.S. trial judge exceeded his authority under RICO when he barred Donziger from profiting from the ill-gotten Ecuadorian verdict. A separate lawyer, Burt Neuborne, is representing Donziger's clients on appeal. Neuborne, a human rights scholar at New York University Law School, is arguing that whatever punishment Donziger may deserve should not be visited on his clients: thousands of poor farmers and indigenous tribe members who live in the rain forest in northeastern Ecuador.
The U.S. Court of Appeals for the Second Circuit in New York is expected to hold oral arguments early next year and issue a ruling later in 2015.
Before it's here, it's on the Bloomberg Terminal.
LEARN MORE