Afghan Police Turn to Opium as $6-a-Day Salaries Delayed
Eltaf Najafizada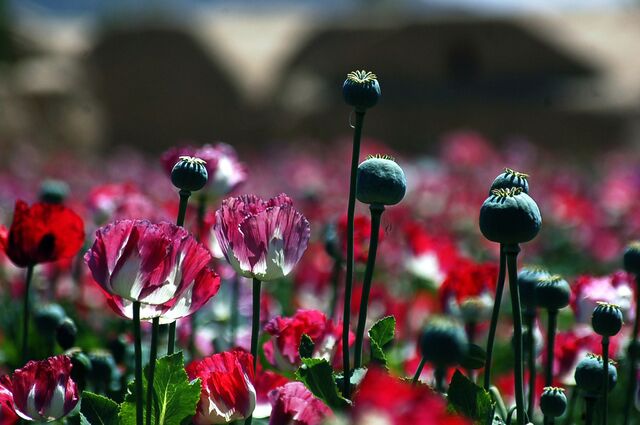 Nazar Mohammad gave up opium farming two years ago in a Taliban-dominant river valley in southern Afghanistan to make 10 times less working as a local policeman. Now he regrets the move.
His monthly salary of 9,700 Afghani ($168) has been delayed four times since March, making him question whether it's worth risking his life if the government won't even pay him on time. While opium farming is also dangerous, at least it gave him enough cash to provide for his wife and four kids.
"If the delays continue, I would leave my job and get back to growing opium," Mohammad, 32, said last month while holding an AK-47 at a police checkpoint in his village of Pashmul. "We request the government to consider this problem seriously or many local policemen may leave their jobs."
The delays are coming even as the U.S. spends more than $6 billion this year to pay for Afghanistan's security and keep its government afloat. If that cash dries up as most American troops leave over the next two years, President Mohammad Ashraf Ghani will have an even harder time fighting off Taliban insurgents who rely on opium production as a key revenue source.
"Afghanistan is now in a fragile state as international forces prepare to leave the country," Waliullah Rahmani, executive director of the Kabul Center for Strategic Studies, said by phone. "The establishment of Afghan Local Police has been a successful project to fight and defeat the Taliban in villages, and this shouldn't be underestimated. Salaries are the only incentive for local police to remain in their jobs."
Opium Surge
Pashmul sits outside of Kandahar, Afghanistan's second-biggest city, and near the hometown of Mullah Omar, the Taliban leader who sheltered Osama bin Laden before the Sept. 11 attacks. Kandahar and neighboring Helmand are Taliban strongholds that account for about 60 percent of the country's opium production, according to the United Nations Office on Drugs and Crime.
Afghan farmers grew a record amount of opium last year even as the U.S. spent nearly $7.6 billion since 2002 to eradicate the practice. That's almost four times the amount of revenue brought in last year by Afghanistan's government, which relies on donors to fund about 65 percent of its budget.
Mohammad and other villagers live in single-story mud-brick homes along narrow dusty roads. They make a living raising livestock and growing wheat, rice and opium. Fighting has disrupted village life routinely since the U.S. invasion in 2001, including earlier this year.
Local Police
In July, Mohammad and other members of his unit joined national police forces in fighting for six days to repel a few hundred Taliban fighters who attacked the district. Four policemen were killed in the fight, according to Zia Durani, a spokesman for Kandahar police.
The incident showed the growing importance of the Afghan Local Police, set up in 2010 on the initiative of retired U.S. General David Petraeus to get villagers to help with security. Their ranks have grown to 30,000 since then, compared with about 160,000 national police officers.
The local police units have faced criticism from groups such as New York-based Human Rights Watch, which implicate them in killings, beatings, illegal detention and sexual assaults. The U.S. suspended training of recruits in 2012 after a rise in insider attacks against coalition troops.
Even so, they often find themselves on the front lines of fighting against the Taliban and suffer higher casualty rates than the national police, according to Mohammad Ayub Salangi, a senior deputy at the Interior Ministry. A Taliban suicide bomber killed seven local police officers yesterday in Logar, provincial spokesman Din Mohammad Darwish said by phone. The Taliban claimed responsibility for the attack.
Fund Shortage
Policeman Mohammad has routinely waited more than a week for his salary to arrive, including his wages for last month. The salaries were delayed because of "technical problems," Abdul Razeq, Kandahar's police chief, said by phone.
"There are no banks available in districts to directly deposit their salaries into their bank accounts," he said. "It also takes longer because we need to have good security in place to carry a huge amount of money to certain districts where Taliban are visible on the streets."
The salary delays should stop now after the government received funds from the U.S. and European Union, according to Abdul Qadir Jilani, a Finance Ministry spokesman. This year's presidential election -- the first transfer of power since the U.S. invasion, contributed to the delays, Najibullah Danish, an Interior Ministry spokesman, said by phone.
Broken Promise
Mohammad joined Pashmul's police force in 2012 because he was tired of dealing with Taliban militants and government officials looking for a cut of the opium trade. Although he could take home $20,000 per year, he constantly worried about having his crops destroyed or getting killed. He also knew the money he paid to the Taliban bought suicide vests and guns.
The local police promised he'd have a regular salary, food for his family and weapons like machine guns and rocket launchers to fight the Taliban. During the first year, the food and cash came on time. But the weapons never arrived, and eventually the food stopped too. Then came the salary delays.
Now he's weighing his options. He's already scouted a location to start growing opium again in an area that is off limits to government troops and far from Pashmul, where Taliban militants know he served in the police force.
Mohammad isn't alone. Abdul Ghani, a 36-year-old from neighboring Arghandab district, also gave up opium farming to join the local police force two years ago after coalition forces helped clear the area of Taliban militants. He's now struggling to support his wife and five kids.
'Very Profitable'
"If I knew we'd face difficulties receiving our salaries, I wouldn't have joined the police," he said in a phone interview. "The opium business was very profitable."
Afghan farmers grew a record 209,000 hectares (516,000 acres) of opium poppies in 2013, up 36 percent from the previous year and surpassing the previous peak of 193,000 hectares in 2007, according to the UN drug office. It probably rose again this year, John Sopko, the Special Inspector General for Afghanistan Reconstruction, said in a report last month.
The UN estimates the value of opium production at the farm level was $950 million in 2013, equivalent to almost 5 percent of Afghanistan's economy. Sopko says it could be three times higher than that.
For Mohammad, the decision to grow opium isn't purely financial. Doing so means he'll have to again wade into a murky world that involves constant death threats and bribes.
"I want a life with freedom and dignity," he said, looking toward the center of Pashmul, his hometown. "But I can't tolerate the delays anymore. If they continue I'll disappear and grow opium."
Before it's here, it's on the Bloomberg Terminal.
LEARN MORE