A Bumper Sticker, a Mob, and a Polarized Brazil Post-Vote
David Biller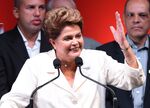 Antonio Goncalves discovered a campaign sticker can get you in trouble after Brazil's most-divisive election in at least 68 years.
Goncalves said he took a drive on Nov. 1 with his wife, mother-in-law and six-year-old daughter along Brasilia's esplanade of government buildings, where he discovered demonstrators calling for impeachment of re-elected President Dilma Rousseff.
A mob surrounded his car, which displayed five pro-Rousseff stickers, and started pounding on it. A window shattered, and his daughter began to wail.
"This hatred of one's fellow man just for being on the opposite side is beyond comprehension," Goncalves, 32, said by phone from Brasilia, where he works as a project manager at one of the ministries. "I participate actively in politics because I like it, and I've never seen any attitude even similar."
The Oct. 26 election split Brazil along both regional and class lines and left behind an atmosphere of polarization and acrimony unprecedented since the return to democracy in 1985, according to Thiago de Aragao, partner and director of strategy at political consulting firm Arko Advice. That will make the country more difficult to govern and leaves Rousseff little room for error in repairing the damage, he said.
"Life will be much harder for her from now on," Aragao said by phone from Brasilia. "She does not have 100 percent loyalty in her party, her main allied party is broken in half between those that support her and those that don't, and she has absolutely no bridges of dialogue with the opposition."
Narrow Margin
Rousseff defeated Senator Aecio Neves by 3.3 percentage points, the narrowest margin in a Brazilian presidential election since at least 1945. She won by promising to expand social welfare -- and by attacking Neves on the grounds that he would scuttle those programs and boost unemployment, threatening the gains of more than 30 million Brazilians who have been lifted from poverty during 12 years of rule by the Workers' Party, or PT. Neves said Rousseff had mismanaged the economy and that her party is implicated in an unfolding corruption scandal at state-controlled Petroleo Brasileiro SA.
Neves of the Brazilian Social Democracy Party, or PSDB, said in his first Senate speech after losing the election any dialogue with Rousseff would depend on government proposals and a decision to expand a probe into corruption. A refusal to meet with the president would stand in contrast to examples set by Brazilian politicians such as Luiz Inacio Lula Da Silva of the PT, who held talks with outgoing President Fernando Henrique Cardoso of the PSDB after winning the presidential vote in 2002.
'New Cuba'
In June 2011, Rousseff wrote a letter to Cardoso congratulating him on his 80th birthday, recognizing his importance in controlling inflation in Brazil.
Rousseff, 66, won overwhelmingly in poorer regions of the country, such as the northeast, where she captured 72 percent of votes, while Neves prevailed in more wealthy regions, gleaning 64 percent of the votes in the industrial and financial capital city, Sao Paulo.
In the aftermath of the bitter campaign, a city councilwoman from Natal drew national attention by posting a map on the Internet with the northern regions labeled "New Cuba." Others left messages on the army's Facebook page, pleading for a coup and the return of military dictatorship. Neves's party asked for an audit of the election results, which hasn't been done since at least 1996 when Brazil implemented electronic voting.
'Going Forward'
Such sentiment coalesced into Nov. 1 demonstrations in Sao Paulo, where 1,000 people marched, according to the military police's press office, some carrying placards calling for a return to military rule. More demonstrations are set for Nov. 15. The protesters reflect a small segment of society that doesn't know how to lose an election, rather than a threat to democracy, Joao Augusto de Castro Neves, an analyst at political risk consulting company Eurasia Group, said.
"These protests highlight some tension-prone environment she'll face going forward, but I wouldn't classify that as political instability," he said by phone. "It's something to watch of course, it is, but it's a frustration with the results of the election."
To compound the perils of polarization, Brazil's Congress will be even more fragmented than it was before. As of February, when the new Congress convenes, Brazil will have 28 parties in its lower house, up from 22 currently, and 17 parties in Senate, up from 15. While Rousseff's coalition will keep its majority in the lower house, it will have less deputies.
Entered Recession
Rousseff is struggling to manage an economy that entered recession in the first half of the year, with economists in the latest weekly central bank survey forecasting growth of 0.2 percent in 2014 and 0.8 percent in 2015. Inflation, at 6.59 percent in October, is above the ceiling of the official target range, and real interest rates of 4.7 percent are the highest in the Group of 20 nations.
The Ibovespa stock index plunged as much as 6.2 percent the day after elections, and has since recovered by 5.4 percent. The real has depreciated 3 percent since the vote.
"The winner can't be arrogant or think she has the final say on political vision," Rousseff said on Nov. 5. "We know that the principal space for dialogue is in Congress."
Demand Efficiency
Neves returned to Congress Nov. 4 and told reporters he would lead the opposition to demand efficiency and transparency. He said recent protests are the start of Brazil encountering its future, though any demonstrations calling for backtracking from democracy would receive "our most vehement opposition."
In a speech the next day Neves said, referring to the PT: "They showed they know no limits in their fight to remain in power. The bad faith with which they waged the dispute reached the limits of the unthinkable, the absurd. And it assaulted the democratic conscience of the country."
Rousseff said in her election-night victory speech that her first goal will be to push for changes in regulations governing elections and parties, such as reducing the role of company funding of campaigns and tightening anti-corruption laws. By focusing on the political system rather than an economy in recession, she is creating "an unnecessarily hostile environment" in Congress, said Eduardo Cunha, leader of the Brazilian Democratic Movement Party, or PMDB, in the lower house, in an Oct. 30 interview.
Rebellious Faction
The PMDB is the biggest allied party in Rousseff's coalition, and Cunha, who in the past led the party's rebellious faction, is a candidate to become the chamber's president.
Since attempts to change the political system will roil her coalition, Rousseff should prioritize tax reform and shift from her style of centralized decision-making to strengthen ministers and advisers, according to Rafael Cortez, an analyst with consulting firm Tendencias Consultoria Integrada. That would allow them to improve ties with Congress and is the type of leadership that works in Brazil's system of rule by coalition, he said.
"She has to find a core of politics that are acceptable within the allied base," Cortez said by phone from Sao Paulo. "Starting with thorny issues that create divergence will only give her more work."
For Goncalves, the man whose car was attacked in Brasilia, whether polarization subsides depends on victors and losers accepting the election's result.
"Now isn't the time to stir up emotions," Goncalves said. "It's time to analyze in order to dispute again in four years, not keep inciting more hatred and rage."
Before it's here, it's on the Bloomberg Terminal.
LEARN MORE