Marchers Set Fire to Main Door of Mexico National Palace
Jose Enrique Arrioja, Eric Martin and Isabella Cota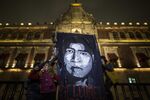 Mask-wearing protesters using Molotov bombs set fire to the main door of Mexico's National Palace after a rally demanded justice for the disappearances of 43 students, newspapers Reforma and El Universal reported.
Fourteen protesters were arrested, Reforma reported, citing people close to the Mexican attorney general's office. An official in the office, who asked not to be named because of internal policies, said he couldn't confirm nor deny the arrests.
The fire at the National Palace, which houses the Finance Ministry, capped a march of about 3,000 people, according to El Universal. Protesters shouted "Pena out," referring to Mexican President Enrique Pena Nieto.
The rally was convened to protest the reported deaths of 43 college students allegedly kidnapped by police under orders of the mayor of Iguala, in southern Mexico's Guerrero state, who investigators said was upset that the students planned to disrupt a public event featuring his wife. The students were probably killed by a drug gang that tried to destroy all evidence of the crime, according to investigators, who have arrested the mayor and his wife.
While making a stop in Alaska en route to an official trip to China and Australia, Pena Nieto condemned the attack. "You cannot demand justice acting with violence," Reforma quoted the head of state as saying.
Discontent
The investigation into the missing students, who were protesting an education reform approved last year, has turned up at least nine mass graves and evidence of collusion between the drug cartel and local officials in Iguala, a city of more than 100,000 people less than three hours' drive from Mexico City. The disappearances followed protests by the students on Sept. 26-27 that left six people dead.
About 50,000 protesters marched on Mexico City's Paseo de la Reforma Boulevard on Oct. 22, the same day Iguala's city hall went up in flames. They also occupied local government offices in the beachside city of Acapulco, located in Guerrero. A bus was burned in the capital near the campus of Mexico's Autonomous University on Nov. 5.
Pena Nieto, who met parents of the students at the presidential residence of Los Pinos on Oct. 29, has yet to visit Iguala.
Protesters have made a rallying anthem out of the nation's attorney general, Jesus Murillo Karam, ending a press conference about the students' deaths Nov. 7 by saying "enough, I'm tired." He said his office will announce changes to Mexico's justice system in the coming days.
A group of protesters known as 43x43 that left Iguala on Nov. 3 arrived to Mexico City in preparation for a rally in front of the National Palace, in a square known as Zocalo, Reforma reported. The march started this morning and protesters shouted "justice, justice," according to the newspaper.
Police Control
To improve security in Latin America's second-biggest economy, the government needs to put local police under the command of state-level officials, said Alejandro Schtulmann, president and head of research at Mexico City-based political risk consulting firm EMPRA. "There really needs to be a stronger focus on improving the rule of law through different reforms," Schtulmann said today in a phone interview.
At the same time, authorities need to improve security in the states of Chiapas, Oaxaca and Guerrero to stop growing power of organized crime in southern Mexico, according to Schtulmann.
With the students' families still dissatisfied with the government's investigation, protests over the disappearance will probably continue, said Jorge Chabat, an analyst at the Center for Economic Research and Teaching, a Mexico City-based university, speaking by phone Nov. 7.
Before it's here, it's on the Bloomberg Terminal.
LEARN MORE