Pick n Pay Aims to Bridge Income Divide Under Ex-Tesco Chief
Janice Kew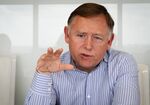 Pick n Pay Stores Ltd. is striving to attract customers from all parts of the income spectrum as the South African grocer attempts to regain market share in one of the world's most unequal countries.
Chief Executive Officer Richard Brasher, the former head of Tesco Plc's U.K. unit, was hired last year to lead a turnaround of the Cape Town-based company after costs spiraled and profit slumped. Pick n Pay is grappling for sales with larger competitors Shoprite Holdings Ltd., which caters for middle to lower-end incomes, and Woolworths Holdings Ltd., which targets wealthier shoppers.
"Pick n Pay needs to do better at the upper end, but it equally needs to do better in the locations in which it operates where money is tight," Brasher, 53, said in an interview at Bloomberg's Johannesburg offices on Nov. 7. "A multicolored tomato pack is relevant to one group of people, but an extra-large beetroot is relevant to another group."
More than 20 years after the country's first all-race elections marked the end of white minority rule, South Africa remains one of the world's most unequal countries, according to the World Bank. The nation's wealth gap has increased since the end of apartheid, with the Gini coefficient, a measure of income inequality, ranking the worst of 42 countries assessed in 2009, including Honduras and Colombia.
Large Cabbages
Pick n Pay had 1,117 stores across six southern African countries as of the end of September, ranging from outlets catering for northern Johannesburg's affluent to shops in poor areas such as Lusikisiki in the Eastern Cape. The company added 41 new stores in the first half of its financial year and plans to exceed that figure in the six months ending March.
A large cabbage on offer in some parts of Johannesburg would only be sold "because someone was going to shred it and put it in a coleslaw," Brasher said. "But in another place it's like an essential staple of life, so if you haven't got it, they are not even going to come into your shop."
South African retailers have struggled this year as inflation of 5.9 percent and unemployment of more than 25 percent constrain consumer spending. Pick n Pay shares fell the as much as 6.5 percent on Oct. 16, when it announced same-store sales growth of 4 percent. The stock rose 1.1 percent to 52.33 rand as of 3:16 p.m. in Johannesburg and trades at 29.78 times estimated earnings, compared with the country's biggest food retailer Shoprite, which trades at 20.89 times earnings.
'Modest Improvement'
Shoprite posted slowing revenue growth in August and its shares are little changed this year. Woolworths stock is up 10 percent. South Africa's economy is set to grow 1.4 percent this year, the slowest pace since a 2009 recession due to strikes and a power shortage, according to estimates by the National Treasury.
"I can't be massively optimistic about economic headwinds," Brasher said. "We went in expecting no help -- not from competitors nor sling shots from the economy."
Pick n Pay's slowdown before Brasher's appointment prompted the company to overhaul its structure to focus on a more centralized distribution network -- a process that was complicated by declining economic growth. The retailer has achieved "modest improvement" over the past three half-year periods, Brasher said.
Pick n Pay's market value has gained 58 percent to 25.4 billion rand ($2.3 billion) since the start of 2007, while Shoprite has jumped to 93.6 billion rand from 13.9 billion rand in the same period.
No Mans Land
"Pick n Pay is in no mans land now and will take some time to find its way," David Shapiro, a director at Johannesburg-based money manager Sasfin Securities, said by phone. "It has been making moves to provide more upper-end goods in some stores. But the shopper in a store like Polokwane would soon recognize it's been ignored," he said, referring to the capital of comparatively poorer Limpopo province in the north-east of the country.
The diversity of the South African customer base in terms of wealth, religion, mobility and size of family is among the biggest differences between his new home and the U.K., Brasher said. The Briton worked for Cheshunt, England-based Tesco for more than two decades before he quit in 2012. He started in January 2013 at Pick n Pay, which is controlled by the family of Chairman Gareth Ackerman.
Lower Incomes
Ackerman's father Raymond built the retailer after purchasing a handful of Cape Town stores from Jack Goldin in 1967. He retired as chairman in 2010. Pick n Pay had sales of 73 billion rand in the year through March and has expanded in countries including Zimbabwe and Zambia.
Those on lower incomes in South Africa "have almost no money, they are at best subsistent and at worst hungry," Brasher said. "So there's no point in pretending I'm going to put a fully fledged Pick n Pay into exactly where they live because the economics of it won't stack up. But it doesn't mean I can't market my brand so should they find an opportunity they would aspire to shop in a Pick n Pay."
Before it's here, it's on the Bloomberg Terminal.
LEARN MORE