Patek Philippe Strikes $20 Million at Christie's Auction. Not Bad for a 175-Year-Old
By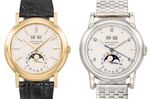 Christie's rang up nearly $20 million at its Patek Philippe 175 watch auction in Geneva, setting nine record prices among the 99 timepieces hand-crafted by one of the world's most storied watchmakers.
The sale took place in front of a standing-room-only crowd of over 300 people at Four Seasons Hotel de Berge in the city where Patek was founded 175 years ago. Though the watches on the block weren't the most valuable Pateks, they spanned the company's full range of timepieces, from merely expensive watches to the finer horological instruments that fetch mansion-sized sums, then and now. The auction included a pink-gold Patek 2499 that was the best performing lot with a price of $2.67 million.
The average price for the evening was $201,338, a number amplified by four timepieces that sold for over $1 million. One of the nine record prices of the evening went for a white gold reference 2497 on a white gold bracelet. It sold for $2.11 million. Patek's ref. 2523 world time watch with a rare enamel dial sold for more: $2.3 million (and that's not a record!). A ref. 3449 perpetual calendar commanded nearly $1.24 million, and the earliest known stainless steel ref. 530 chronograph sold for $612,354. The lowest price paid for the evening was for an 1899 silver pocket watch. It went for $7,745, one of the only sums that couldn't also purchase a legitimate human dwelling.
But the bidders here aren't your average watch collectors. "They're like religious followers," said John Reardon, international head of Christie's watch department. He noted that most pieces sold for more than the auction house's estimates. "Auction markets are highly unpredictable and exciting. That's why we had this room absolutely packed tonight," Reardon said.

Christie's itself hit a record number of bidders for a single watch auction: 320 clients from 30 countries. That made the evening a polyglot frenzy -- something like an argument at the U.N.. Of the 98 sold lots, 51 were purchased by bidders in the room, raising paddles and nodding heads along with the multilingual patter of Thomas Perazzi, watch department senior specialist and the auctioneer for the evening.
An additional 20 watches were purchased via Christie's more than 25 phone specialists whispering quietly into handsets along the room's entire perimeter. The remaining 20 were purchased electronically or by absentee bid. Country names flashed on an overhead display as online bids were cast.
"From the rostrum, I saw not only all the Patek collectors but all the Patek lovers," said Perazzi.
And some love was unrequited. Two lots were left unsold as the reserve prices were not met. Neither the black-dialed driver's wristwatch nor the gold 1901 Cabriolet pocket watch found a new home. Despite nine record prices, none of the top five lots hammered outside of its estimate range. One of the most talked about watches of the sale, the reference 130 chronograph owned by W.E. Boeing, barely sold at all, finally hammering for it's low estimate of $400,000 after a long, tense pause in the auction room.
The Patek Philippe 175 auction, the second thematic watch auction Christie's Geneva has held in as many years, didn't reach the fever pitch of Christie's Rolex Daytona "Lesson One" auction last year. All 50 watches, selected from the famous chronograph's 50-year history, set world records of some kind and totaled more than $13 million.
Still, Patek Philippe 175 contained a much more diverse group of watches than Lesson One, and the inconsistent results reveal collectors' current preferences. Wristwatches in white metals (platinum, white gold, and stainless steel) performed better against their estimates than those in yellow and pink gold. More than anything, the condition of the watch -- its fidelity to its place in Patek's past -- determined its value.
Another pretty face from the company's history will hit the auction block on November 11, when Sotheby's will sell the 1932 Patek Philippe Supercomplication pocket watch, originally made for American banker and collector Henry Graves, Jr. (his name is right there on the dial). The last time Sotheby's sold the pocket watch was in 1999. It brought in $11 million, making it the most expensive watch ever sold at auction. This time around, Sotheby thinks it may fetch roughly $17 million.
"It's going to be interesting," said Reardon, "to see what happens to the pieces sold tonight in the future."
Before it's here, it's on the Bloomberg Terminal.
LEARN MORE