Treasuries Rise as Jobs Report Quells Rate-Boost Concern
Daniel Kruger and Cordell Eddings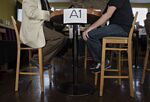 Treasuries rose for the first time in three weeks after a U.S. report yesterday showing a lower-than-forecast gain in jobs in October added to speculation the Federal Reserve will keep interest rates low for longer.
U.S. government securities erased weekly losses after the employment data also showed hourly earnings stalled. Reports earlier in the week showing a gain in manufacturing and a larger-than-projected drop in jobless-benefit claims had fueled bets the labor market would grow faster than forecast. The Treasury Department is scheduled to auction $66 billion of notes and bonds next week.
"We'd gotten data all this week that propelled a feeling of optimism that caused the market to price in perfection for the labor data," said Adrian Miller, director of fixed-income strategies at GMP Securities LLC in New York. "The job number wasn't as stellar as many had hoped, but more than anything we didn't see any notable wage growth."
The benchmark Treasury 10-year note yield fell four basis points, or 0.04 percentage point, to 2.30 percent this week in New York, according to Bloomberg Bond Trader prices. The price of the 2.375 percent security due in August 2024 rose 10/32, or $3.13 per $1,000 face amount, to 100 21/32. The yield had increased five basis points in the first four days of the week.
Thirty-year bond yields declined four basis points to 3.03 percent, after advancing four basis points through Nov. 6.
Short Bets
Treasuries climbed yesterday after the Labor Department reported employers added 214,000 jobs in October, versus a forecast in a Bloomberg survey for 235,000 and a revised September gain of 256,000. The jobless rate fell to 5.8 percent, from 5.9 percent. Average hourly earnings were up 2 percent over the past 12 months, matching September's level and trailing the 2.1 percent forecast in a Bloomberg survey.
"The number wasn't good enough or far enough from expectation," Andrew Brenner, the head of international fixed income for National Alliance Capital Markets, said of the payrolls figure. "There were a lot of people betting it would be even better, and we are seeing some of those bets being squeezed out."
Hedge-fund managers and other large speculators were wagering that 10-year note futures would fall, according to U.S. Commodity Futures Trading Commission data. The number of net-short positions was 47,286 this week, up from 35,824 in the week through Oct. 28. Investors were net long as recently as September.
Stronger Data
Bonds fell Nov. 6 after the Labor Department reported that initial jobless claims dropped 10,000 to a three-week low of 278,000 in the week ended Nov. 1. The four-week moving average, a less-volatile measure of job cuts, reached the lowest level in more than 14 years.
The Institute for Supply Management's index of U.S. manufacturing climbed to 59 in October, matching August as the highest since March 2011, a report from the Tempe, Arizona-based group showed Nov. 3. Readings above 50 indicate expansion.
The payrolls report "keeps us in a holding pattern," William O'Donnell, head U.S. government-bond strategist at Royal Bank of Scotland Group Plc's RBS Securities unit in Stamford, Connecticut, one of 22 primary dealers that trade with the Fed, said yesterday. "The Fed stays on the sidelines, arms akimbo, waiting for more data."
The U.S. central bank has held the target for its benchmark, the rate banks charge each other on overnight loans, in a range of zero to 0.25 percent since December 2008.
Low Inflation
While the U.S. economy has gained, with gross domestic product expanding at an annualized 3.5 percent rate in the third quarter, inflation indicators have remained low.
The personal consumption expenditures price index, the Fed's preferred gauge of inflation, has been below policy makers' 2 percent target for more than two years. The index rose 1.4 percent in September from a year earlier, according to Commerce Department figures released Oct. 31.
"The Fed's going to continue to walk the tightrope," Richard Schlanger, who helps invest $30 billion in fixed-income securities as vice president at Pioneer Investments in Boston, said yesterday. "The last thing they want to do is thwart any kind of growth we're experiencing."
The government will auction $26 billion in three-year notes on Nov. 10, $24 billion in 10-year notes on Nov. 12 and $16 billion in 30-year bonds on Nov. 13.
Auction Sizes
The $66 billion being sold compares with $67 billion last quarter as the three-year note issuance declined by $1 billion. The U.S. is reducing the size of two- and three-year note sales gradually in the next three months, the Treasury Department said in its quarterly refunding statement Nov. 5 in Washington.
Treasury 10-year yields were little changed Nov. 5 after Republicans swept to control of the U.S. Senate in elections the day before. The party also added seats in the House of Representatives, which it already controlled.
"Perhaps the biggest question for markets will be how this influences the debt ceiling and funding questions," Richard Kelly, a senior strategist at Toronto-Dominion Bank in London, said Nov. 5. "But that has a long fuse that doesn't start burning until March next year and will run into the summer before it is critical."
Before it's here, it's on the Bloomberg Terminal.
LEARN MORE