Russian Minister Makes Joke at U.S. Expense as Kerry Looks on
Bloomberg News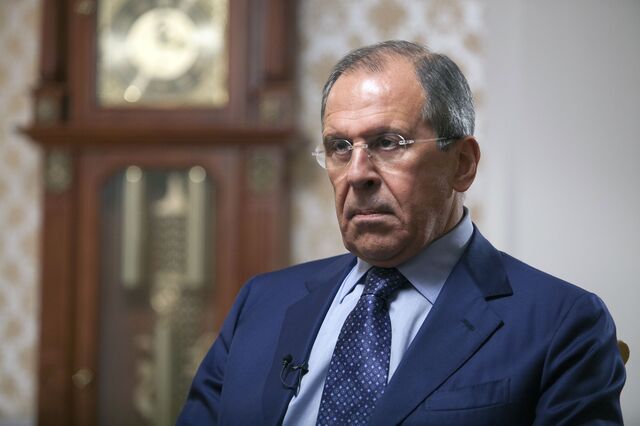 Russian Foreign Minister Sergei Lavrov refused to comment on whether his government sent troops and tanks into Ukraine, instead making a dig at the U.S. as Secretary of State John Kerry looked on.
During a meeting with Kerry in Beijing, where the two gathered for the Asia-Pacific Economic Cooperation summit, Lavrov deflected a reporter's question about Ukrainian allegations it had sent soldiers and weaponry into rebel-controlled areas of the country.
"Even Jen Psaki said that the State Department doesn't have the information about this," Lavrov said, referring to the State Department's spokeswoman. "If Psaki doesn't have it, I don't."
Kerry stood clasping his hands in front of him and began to smile as a reporter pressed Lavrov on Russia's involvement in Ukraine. Psaki said yesterday the troop movements, if confirmed, would violate a cease-fire pact agreed in September.
Asked if Russia still respected the cease-fire, Lavrov said: "The cease-fire has been signed between the rebels and the government. It's for them to finalize the disengagement line, which they are doing right now."
Ukraine's military said yesterday it killed as many as 200 rebels near the eastern city of Donetsk. Both sides have accused each other of breaking the truce agreed to in Belarus on Sept. 5. Russian President Vladimir Putin has said his country isn't militarily involved.
Rising tension between the former Soviet republics is threatening to escalate back into the open separatist war that broke out after the February ouster of Russian-backed president Viktor Yanukovych and Putin's annexation of the Crimean peninsula from Ukraine a month later.
— With assistance by Nicole Gaouette
Before it's here, it's on the Bloomberg Terminal.
LEARN MORE