Obama's Attorney General Choice Avoids Political Tangles
Del Quentin Wilber, Patricia Hurtado and Christie Smythe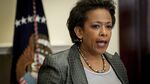 Until Republicans won control of the Senate in midterm elections, Loretta Lynch was an ideal candidate to serve as deputy to the next U.S. Attorney General.
As the top federal prosecutor in Brooklyn, Lynch has developed a reputation for being tough on terrorism, cyber crimes and public corruption. She also has a deep knowledge of the Justice Department and a low-key style that wouldn't upstage her boss.
Then President Barack Obama's first choice to succeed Attorney General Eric Holder withdrew from consideration and the Democrats took a drubbing at the polls on Nov. 4. Suddenly, the traits that made Lynch the favorite for second-in-command vaulted her into the top spot.
So the 55-year-old native of Greensboro, North Carolina, became a part of history yesterday when Obama made her the first black woman nominated to become the top U.S. law enforcement officer. She's receiving a polite response so far from Republicans, far more favorable for confirmation than if Obama had sought out another ally like Holder, connected closely to his battles over the past six years.
"She has distinguished herself as tough, as fair, an independent lawyer," Obama said during a White House ceremony at which he was joined by Lynch and Holder. "She has spent years in the trenches as a prosecutor, aggressively fighting terrorism, financial fraud, cybercrime, all while vigorously defending civil rights."
'About Substance'
"Loretta doesn't look to make headlines," Obama added. "She looks to make a difference. She's not about splash, She is about substance."
Lynch is in her second stint as U.S. attorney for the Eastern District of New York, a post she held previously in the Clinton administration. The Harvard-educated lawyer was confirmed for her current post in 2010 with no Republican opposition.
Lynch spoke briefly at the White House ceremony, saying she was grateful for the opportunity to lead a department that has a $27.3 billion annual budget and more than 100,000 employees, ranging from FBI agents and prosecutors to analysts and grant managers. She thanked Obama "for your faith in me" and "for asking me to succeed an attorney general I admire and lead a department that I love."
"The Department of Justice is the only cabinet department named for an ideal," she said. "This is actually appropriate, because our work is both aspirational and grounded in gritty reality."
Lame-Duck Session
Obama urged the Senate to act quickly on the nomination. The Senate will remain in Democratic control until January, and will be in lame-duck session starting next week. Adam Jentleson, spokesman for Senate Majority Leader Harry Reid, said in an e-mail that Democrats haven't yet decided whether they will try to confirm Lynch before Republicans take over.
Trying to ram her name through quickly would trigger a fight with Republicans.
Senator Ted Cruz, a Texas Republican, believes Lynch should be vetted by the newly elected Senate that takes control in January, according to his spokeswoman Catherine Frazier. "The lame duck should only be used to consider emergency legislation," she said.
Lynch is the daughter of a retired Baptist minister and graduated from Harvard College and Harvard Law School.
She joined the U.S. Attorney's Office for the Eastern District of New York in 1990 and worked her way up through units including narcotics. She served as U.S. Attorney under President Clinton from 1999 to 2001. She was a partner at Hogan & Hartson in New York City before being tapped by Obama to be U.S. Attorney a second time.
'Great Judgment'
Lynch oversees federal prosecutions in an area of New York that includes Brooklyn, Staten Island, Queens and the rest of Long Island.
"She is smart, she has great judgment, she's well-respected and knows the Department of Justice inside and out and she is a great leader," said Alan Vinegrad, a former U.S. attorney who also served as chief assistant U.S. attorney to Lynch during her first stint as Brooklyn's top prosecutor.
During her current tenure, the office negotiated a $1.92 billion money-laundering settlement with HSBC Holdings Plc in 2012 and is investigating whether banks violated anti-bribery laws by hiring the children of government officials in China to win business.
Bank Settlements
Lynch's office aided in a federal investigation that resulted in Citigroup Inc.'s agreement in July to pay $7 billion in fines and consumer relief to resolve claims it misled investors about the quality of residential mortgage-backed bonds sold before the financial crisis. Her office was also involved in Bank of America Corp.'s $16.7 billion settlement to end federal and state probes into mortgage-bond sales.
Between stints as U.S. Attorney, Lynch served as special counsel to the prosecutor of the International Criminal Tribunal for Rwanda, investigating allegations of witness tampering of victims of that 1994 tribal genocide.
"What I say to young lawyers in particular is, I wish for them to have the kind of experience [I did], to use the law in a way that's transforming," Lynch said in an interview for the Harvard Law School Bulletin. "I think you can do it in any venue because every case is important to the people involved in it. It doesn't have to be a genocide case."
If nominated and confirmed, Lynch would be the first U.S. attorney elevated directly to the top Justice Department job since the 1800s.
Prosecuting Lawmakers
Those who have worked with Lynch say she is a prosecutor who understands the demands of the job and isn't afraid to follow the evidence. Her office has indicted Representative Michael G. Grimm, a Republican, on fraud charges and has also prosecuted five current and former Democratic state lawmakers.
Lynch and Vinegrad were on the trial team in the high-profile prosecution of New York City police officers for the sexual assault of Haitian immigrant Abner Louima in a Flatbush, Brooklyn precinct bathroom in 1997.
During the trial, in which the government alleged civil rights violations against the New York Police Department, Lynch questioned Eric Turetsky, the rookie cop who was the first to break the "blue wall of silence" and tell authorities about the torture in the Brooklyn police station house.
Trial Lawyer
"The other thing is that she's a great trial lawyer," Vinegrad said in a telephone interview. "While you don't have to be a great trial lawyer to be an attorney general, it doesn't hurt. She knows what prosecutors have to do because she did it so well."
Andrew Weissmann, a former federal prosecutor who served as chief of the criminal unit for two years under Lynch, said she "cares about doing the right thing and not how it will look."
"She will be good for morale for the office, making decision based on justice and not on politics," said Weissmann, who most recently served as general counsel for the FBI before becoming a law professor. "She cares about the work, she's not a politician."
She was also described as a competent manager who reacted quickly to emerging trends.
Michael L. Yaeger, a former assistant U.S. attorney who served under Lynch, said his former boss demonstrated vision by retooling the office's violent crimes and terrorism unit to focus more intensely on cybercrime as it was becoming a top priority of the Justice Department and the FBI.
"I think she saw the nexus between national security and cyber issues fairly early," he said.
Before it's here, it's on the Bloomberg Terminal.
LEARN MORE