North Korea Releases Two Jailed Americans
Chris Strohm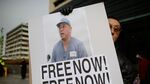 North Korea released two jailed Americans sentenced to hard labor camps after U.S. intelligence chief James Clapper negotiated with officials in Pyongyang to secure their release.
U.S. citizens Kenneth Bae and Matthew Miller had been accused of crimes including "hostile" acts against the reclusive North Korean regime. Clapper was accompanying them back to the U.S., State Department spokeswoman Jen Psaki said.
"It's a wonderful day for them and their families," President Barack Obama told reporters at the White House. "Obviously we're very grateful for their safe return and I appreciate Director Clapper doing a great job on what was obviously a challenging mission."
The North Korean regime had pressed for a high-level American emissary to negotiate the release. North Korea has in the past released Americans after visits by prominent figures including former President Bill Clinton.
David Maxwell, associate director at Georgetown University's Center for Security Studies, said sending Clapper, who as Director of National Intelligence is the highest-ranking U.S. intelligence official, may have been just one concession by the U.S.
"North Korea conducts blackmail diplomacy and every action is designed to obtain political and economic concessions," Maxwell said in an e-mail. "The DNI may only be the visible concession. The question is what is happening behind the scenes."
Bae, a U.S. missionary, was arrested in November 2012 in the northeastern city of Rason. He was sentenced to 15 years in a labor camp for what the North Koreans called plans to overthrow the regime.
Miller was held for seven months and was sentenced in September to six years of hard labor for what North Korea termed "hostile" acts, according to the state-run Korean Central News Agency.
Nuclear Negotiations
North Korea probably released the two in an effort to ease pressure from the U.S. over its nuclear programs and to head off a United Nations resolution that would refer North Korean officials to the International Criminal Court for human rights abuses, said Victor Cha, professor of government at Georgetown University and former director of Asian affairs for the National Security Council.
"Releasing these two Americans just before President Obama goes to Asia is probably designed to put a little pressure on the United States to be more forthcoming on the nuclear negotiations," Cha said in a phone interview.
North Korea released a third U.S. citizen, Jeffrey Fowle, last month, who was in North Korea as a tourist and detained after allegedly leaving a bible in his hotel room.