Kerry Rejects Any Link Between Iran Nuclear Talks and ISIS Fight
Bloomberg News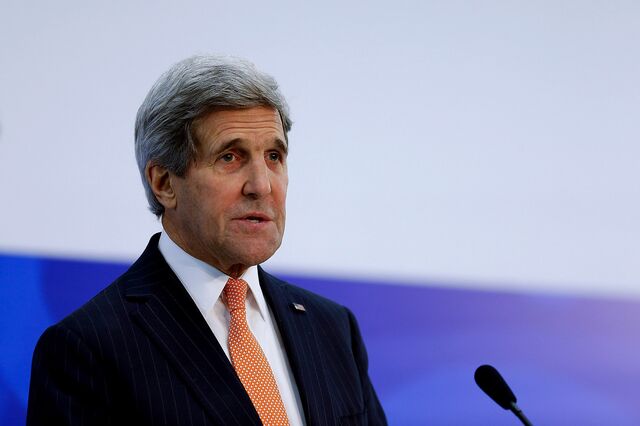 U.S. Secretary of State John Kerry said there was no link between talks over Iran's nuclear program and the fight against the Islamic State, refusing to comment on a letter from President Barack Obama to Iran's leader.
"The nuclear negotiations are on their own, they're standing separate from anything else, and no discussion has ever taken place about linking one thing to another," Kerry told reporters in Beijing on the sidelines of an Asia-Pacific Economic Cooperation forum meeting. "I'm confident I'm aware of what the president has been doing and saying with respect to this issue."
Kerry was responding to questions about a letter that Obama was said to have sent to Iran's Ayatollah Ali Khamenei. In the letter, Obama stressed a shared interest in fighting Islamic State and said such cooperation depends on reaching a nuclear agreement, according to two U.S. officials who asked not to be identified because the letter isn't public.
Fresh from electoral victories that will give them control of both chambers of Congress in January, Republicans criticized Obama over the letter. Former Republican presidential candidate Mitt Romney told a meeting of the Israeli American Council that reports of the letter left him speechless.
Suzanne Maloney, a senior fellow at the Brookings Institution, a Washington policy group, wrote in a blog post that sending the letter "betrays a profound misunderstanding of the Iranian leadership, and is likely to hinder rather than help achieve a durable resolution to Iran's nuclear ambitions as well as other U.S. objectives on Iran."
Kerry said he wouldn't discuss Obama's private communications with other leaders. The Wall Street Journal reported the existence of the letter earlier.
"No one, to my knowledge, has confirmed or denied whether or not there is a letter or was a letter," Kerry said. "I'm not going to comment on what the president of the United States and the leader of another country may or may not communicate privately."
— With assistance by Nicole Gaouette
Before it's here, it's on the Bloomberg Terminal.
LEARN MORE