Israel Police Officers Kill Assailant, Setting Off Clashes
Jonathan Ferziger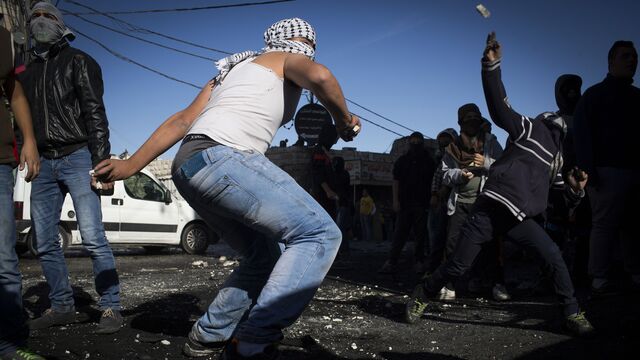 Israeli police shot and killed an Israeli-Arab man who attacked officers with a knife, setting off riots outside his village in northern Israel and stretching tensions already taut from weeks of clashes in Jerusalem.
The Justice Ministry ordered an investigation after the mayor of Kafr Kanna village said the killing of 22-year-old Kheir Hamdan was an "execution." Prime Minister Benjamin Netanyahu condemned the rioters for denouncing the government and proposed revoking the citizenship of those calling for Israel's destruction.
About 2,500 residents of Kafr Kanna poured into the streets today to protest the killing, some throwing stones and burning tires, police spokeswoman Luba Samri said in a text message. Three people were arrested.
The clashes with police come amid heightened tensions in Jerusalem, where two Palestinians over the past month killed Israelis by driving vehicles into crowds.
Palestinian anger has erupted over Israeli restrictions on access to the al-Aqsa mosque compound, home to Islam's third-holiest site. The shrine is on a hilltop in Jerusalem's Old City known to Jews as the Temple Mount and considered Judaism's holiest site.
While the great majority of Israel's 8 million citizens are Jewish, close to 20 percent are Arab. Another 4.5 million Palestinians live in the West Bank, Gaza Strip and east Jerusalem, which Israel captured in the 1967 Middle East war.
'Cold Blood'
Kafr Kanna Mayor Majhad Awadeh charged that Hamdan was killed by police "in cold blood," in remarks broadcast on Israel Radio. "We won't be silent about this crime that was committed by people that are supposed to uphold the law," he said.
The Police Internal Investigations Department, an independent body based in the State Attorney's Office, will review the officers' actions in Kafr Kanna, according to a statement emailed by the Justice Ministry in Jerusalem. The police had come to arrest Hamdan for earlier throwing a stun grenade, Samri said.
Netanyahu issued a statement condemning the rioting and those who "call for the establishment of a Palestinian state in place of the state of Israel." He said he would instruct the interior minister to "evaluate revoking the citizenship of those who call for the destruction of Israel."
Before it's here, it's on the Bloomberg Terminal.
LEARN MORE