Chris Christie's Best Week Ever, Day by Day
The governor has had a glorious couple of days.
By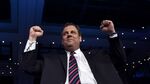 For months, he's been racing from state to state campaigning and raising money for the governors he represents as head of the Republican Governor's Association. In the five days leading up to Election Day, he visited 19 different states. He dispersed, all told, $90 million in states where the margin of victory was 6 percentage points or less. And after this epic run, Chris Christie enjoyed a little rest and a lot of affirmation.