Caesarstone's 460% Gain Shows U.S. Gamble Paying Off
Gabrielle Coppola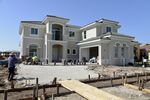 For all of this year's hot initial public offerings by Israeli companies in the U.S. market, Caesarstone Sdot Yam Ltd. is still the benchmark.
The maker of quartz countertops has now returned 460 percent for investors since its March 2012 IPO after surging 10 percent to a record high last week. The Sdot Yam, Israel-based company reported third-quarter earnings that beat analysts' estimates and raised its 2014 revenue forecast.
Caesarstone, a 27-year-old company founded on a kibbutz, has become the top-performing Israeli IPO of the past decade by carving out market share in the U.S., Canada and Australia. Chief Executive Officer Yos Shiran plans to open his first U.S. plant next year in a bet that demand will keep growing even as U.S. home sales remain stagnant.
"The stock price is kind of independent of that, because they make a product which is in high demand, and gaining traction everywhere," Bruce Schoenfeld, research director at New York-based BlueStar Global Investors LLC, said by phone Nov. 6. "It's gained a tremendous amount of consumer acceptance."
Caesarstone's IPO performance eclipses the 87 percent gain in shares of Mobileye NV, the maker of software for driverless cars that went public in July, and ReWalk Robotics Ltd.'s 150 percent rally since September. Mobileye raised $1 billion in the largest IPO by an Israeli company in the U.S., according to data compiled by Bloomberg.
Quartz, which tends to be slightly more expensive than granite, is harder to chip or stain and doesn't require as much maintenance, according to John Baugh, an analyst at Stifel Nicolaus & Co.
Market Share
Less than 10 percent of U.S. consumers use quartz countertops in their homes, compared with 35 percent in Australia, close to 30 percent in Italy, and 60 percent to 70 percent in Spain, Shiran said in a Nov. 7 interview in New York.
"The key driver for Caesarstone is what we call material conversion, when certain products transit from one solution to a better solution, and this is what's happening with quartz," Shiran said in an interview at the Metropolitan Opera House in New York, where he addressed investors during an event held by Baron Capital Group, an early investor in the company. "Of course it helps us when the market's growing, but even if it doesn't happen, we can still take market share."
Purchases of new houses in the U.S. rose 0.2 percent in September, and revisions showed the magnitude of the unfolding recovery was more modest, according to data released last month by the Commerce Department in Washington.
Estimate Raised
The Standard & Poor's SuperComposite Homebuilding Index, which includes companies such as Lennar Corp. and PulteGroup Inc., has declined one percent this year, compared with a 9.9 percent gain in the broader S&P 500 Index.
Caesarstone reported a record $123 million of sales in the third quarter, beating the $113 million average estimate of three analysts surveyed by Bloomberg. It raised its full-year revenue forecast to as much as $450 million, after lifting it to as much as $445 million in August.
The company also declared a one-time dividend of 57 cents a share, according to a Nov. 5 earnings call.
It's unclear how sustainable Caesarstone's revenue gains are because the potential size of the U.S. market is hard to estimate, according to Baugh.
'Uncharted Territory'
"We're in uncharted territory in the sense that quartz is a new product and we can't look back in history and say, 'Quartz penetration will go to this level,'" he said by phone from Richmond, Virginia Nov. 7. "We're all left to guess where it will ultimately go," said Baugh, who has had a buy recommendation on the stock since its IPO and raised his price target to $70 on Nov. 5.
The shares fell 1.2 percent to $60.87 at 10:55 a.m. in New York, trimming their rally this year to 23 percent, more than double the 11 percent gain on the Bloomberg Israel-US Equity index. The index slipped 0.5 percent last week. Israel's TA-25 Index added 0.1 percent today.
Five of six analysts covering Caesarstone recommend buying the stock, with an average price target for the next 12 months of $66.
While acknowledging that he doesn't know his product's potential penetration rate in the U.S. market, Shiran is confident enough to press ahead with plans to open a manufacturing plant in Richmond Hill, Georgia. The first production line is expected to start operating in the second quarter of 2015.
"We have a rough idea because we have history and we feel the momentum in the market," he said. "In every market we come to, we know how to generate this quartz wave and ride this wave all along."
Before it's here, it's on the Bloomberg Terminal.
LEARN MORE