Australia's Abbott Plans 'Robust' Talk With Putin on MH17
Tracy Withers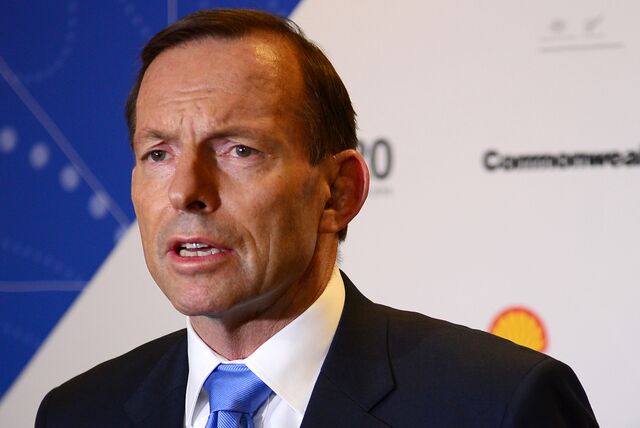 Australian Prime Minister Tony Abbott plans a "robust" talk with Russian President Vladimir Putin next week to ensure he gives support to investigations into the shooting down of a Malaysian passenger jet over Ukraine.
"I'm going to have a very robust conversation with him," Abbott said today at a televised news conference. "I have a very strong message from the Australian people to the president of Russia that we absolutely expect full cooperation with the various investigations into the MH17 atrocity."
Australia has accused Russia of supplying the weapons that separatist rebels used to shoot down Malaysian Airline System Bhd. Flight 17 in Ukraine in July, killing 298 people including 38 Australians. Putin will meet Abbott in Beijing on Nov. 11 during the APEC leaders summit, the Kremlin said yesterday.
Last month, Abbott said he would "shirtfront" Putin at their next meeting, using an Australian rules football term for flattening an opponent with a shoulder charge.
Abbott said today he will seek Putin's personal assurance "that this is not an atrocity which Russia thinks can be swept under the carpet."
Russia supported a United Nations security council resolution calling for the perpetrators to be brought to justice, and Australia expects Russia will be "true to its word" and cooperate with the Dutch-led investigation, Abbott said.
Before it's here, it's on the Bloomberg Terminal.
LEARN MORE