Arizona Cardinals Quarterback Palmer Signs Three-Year Extension
Rob Gloster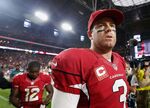 Quarterback Carson Palmer, who has led Arizona to a National Football League-best record of 7-1 this season, signed a three-year contract extension.
Palmer, 34, was obtained by the Cardinals in an April 2013 trade with the Oakland Raiders. He has gone 15-6 with Arizona, throwing for 35 touchdowns and 24 interceptions.
The Cardinals said on their website yesterday that the new deal keeps Palmer under contract with them through the 2017 season. Contract details were not released by the team. CBSsports.com said the deal was worth $50 million.
Palmer has a career record of 69-73 as a starter, including seven seasons with the Cincinnati Bengals and two with the Raiders. He made the Pro Bowl in 2005 and 2006 with the Bengals, but has never led a team to a playoff victory.
Palmer, the top overall selection of the 2003 NFL draft out of the University of Southern California, could have become a free agent after this season.
Before it's here, it's on the Bloomberg Terminal.
LEARN MORE