Why Disney Can't Quit Churning Out Toy Stories
by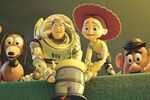 Walt Disney isn't done playing with Woody and Buzz.
The company promised Wall Street analysts this morning it will release a fourth iteration of Pixar's Toy Story franchise on June 16, 2017. And it has the same old gang lined up: Tom Hanks, Tim Allen, and the director John Lasseter. "These wonderful characters are clearly just as relevant and beloved as ever," Disney Chief Executive Robert Iger said on the conference call.
Apparently, Lasseter wasn't too keen on a fourquel. Here's how he described the evolution of the project in a statement this morning:
"Toy Story 3 ended Woody and Buzz's story with Andy so perfectly that for a long time, we never even talked about doing another Toy Story movie. But when Andrew [Stanton], Pete [Docter], Lee [Unkrich], and I came up with this new idea, I just could not stop thinking about it."
The money probably isn't shabby, either. When factoring in inflation, it's hard to best the piles of box-office booty pulled in by such Disney classics as Bambi and Snow White. But still, the third Toy Story was a blockbuster by any measure.

Toy Story is also one of the rare franchises that has become only more profitable over time. Of course, the plotline might be getting a little thin at this point. No one wants to watch a 30-something playing with action figures. Disney might find more upside in a Finding Nemo sequel, which is allegedly in the works for 2016.
And the budget for a fourth Toy Story can't be cheap. Hanks doesn't work for peanuts, and everyone else on the project knows how lucrative it might be. At the end of the day, the return on investment might be better for something like Big Hero 6, an all-new Disney animation property that makes its debut tonight. Analysts expect the film to gross almost $60 million in U.S. theaters this weekend—about $15 million more than the original Toy Story.
Before it's here, it's on the Bloomberg Terminal.
LEARN MORE