Carlos Slim Invests $750 Million More in Telekom Austria
Alexander Weber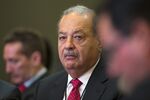 Billionaire Carlos Slim is putting an additional $750 million in Telekom Austria AG two years after starting a foray into Europe that has yet to pay off.
As part of a 1 billion-euro ($1.2 billion) capital increase by Vienna-based Telekom Austria, Slim will pay 4.57 euros apiece for 132.2 million shares for a total investment of 604 million euros. That compares with the 882.6 million euros Slim paid in 2012 for an initial holding.
Slim's Mexico City-based America Movil SAB and OeIAG, Austria's state holding company, are Telekom Austria's biggest investors with a combined 88 percent stake. They agreed in April on the rights offering to revive the phone company's prospects following a wireless-frequency purchase that pushed debt up. America Movil, which also owns about 23 percent of Dutch phone operator Royal KPN NV, wants to use Telekom Austria as a platform for more European acquisitions.
"The proceeds of the capital increase will be used to strengthen our balance sheet and boost infrastructure investments, especially in Austria," Telekom Austria Chief Executive Officer Hannes Ametsreiter said in a statement. "Furthermore, we will continue our expansion."
Telekom Austria rose 0.8 percent to 5.90 euros at 12:34 p.m. in Vienna, taking the gain to 7.1 percent this year.
Offer Terms
The company is offering as many as 221.5 million shares, or 50 percent of its outstanding stock, at 4.57 euros each, and investors can subscribe to one new Telekom Austria share for every two they own. The purchases by Slim and OeIAG, which will buy almost 63 million of the new shares, will maintain the two main investors' combined holding.
The subscription period runs from Nov. 10 to Nov. 24, and trading of the new shares is expected to start on Nov. 27 in Vienna. Citigroup Inc. and Deutsche Bank AG are joint global coordinators for the share sale, while Erste Group Bank AG, Raiffeisen Centrobank AG and UniCredit Bank Austria AG are bookrunners.
In the shareholder deal with OeIAG, America Movil agreed on a list of eastern European countries where acquisitions will be made exclusively via Telekom Austria. One priority is to buy direct competitors where it already operates, Telekom Austria said today. The company may also add cable and fixed-line assets where it only offers mobile services, and expand via new operations, it said.
Macedonian Merger
Telekom Austria said last month that it will merge its Macedonian unit, VIP, with Telekom Slovenije's local subsidiary. It will hold a majority stake in the combined entity and the Slovenian operator has the option to exit the venture within three years. Earlier this year, Telekom Austria agreed to buy Macedonian fixed-line operator Blizoo.
Peter Schiefer, a spokesman for Telekom Austria, declined to comment on possible acquisition targets.
Considering the company's debt of more than 3.5 billion euros, the scope for such moves will still be small, said Heinz Steffen, a Kronberg, Germany-based analyst at Fairesearch, who has a "reduce" recommendation on Telekom Austria's stock.
"They've managed to get some elbow room, but big acquisitions won't be possible before the operating business picks up," Steffen said via telephone. "First of all, the company has to significantly cut its debt pile."
Quarterly Profit
The capital increase was initially planned to take place by mid-2015. After reporting third-quarter profit that beat analyst estimates, Telekom Austria said on Oct. 23 that it would go ahead with the deal before the end of the year, as long as market conditions don't deteriorate significantly.
Under the shareholder syndicate agreed to in April, America Movil and OeIAG also agreed to secure a free float of Telekom Austria's stock of at least 24 percent, Chairman Rudolf Kemler said at a shareholder meeting in August. America Movil will sell shares over a period of 24 months to meet this target, he said. A lock-up period during which neither America Movil nor OeIAG will sell any shares ends six months after the new shares start trading.
Before it's here, it's on the Bloomberg Terminal.
LEARN MORE