Spain's Princess Cristina Cleared of Money Laundering
Ben Sills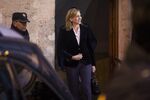 Spain's Princess Cristina, the sister of King Felipe VI, was cleared of accusations of money laundering by a court in Mallorca.
While the court said that Cristina will remain a suspect on a lesser charge of tax evasion, she may escape trial altogether because Spain's state prosecutor hasn't supported that accusation.
The court's decision follows a three-year investigation into Cristina's and her husband Inaki Urdangarin's business affairs. It comes five months after she was absent from her younger brother proclamation as king. Felipe promised to act with "integrity, honesty, transparency" at his swearing-in at the national parliament on June 19.
"There was no money laundering," Cristina's lawyer, Miquel Roca, said in televised comments to reporters. "That seems to us to be important."
He said the princess disagrees with the court's decision to keep her under suspicion of tax evasion. "We will continue with the defense," he said.
Cristina, 49, a mother-of-four with a master's degree from New York University, was the first Spanish royal to face criminal allegations in court since the monarchy was reinstated almost 40 years ago. She testified under caution in February.
The court rejected an appeal by Urdangarin, a former Olympic handball player then an executive at Telefonica SA. Urdangarin is suspected of embezzlement, defrauding the government, influence trafficking and falsifying official documents.
Company Probe
The probe focused on the non-profit Noos Institute that Urdangarin headed, which received public funds, and Aizoon SL, a shell company he owned equally with his wife that received money from Noos, according to court documents.
Cristina was named as an official suspect on Jan. 7. In the 200-page court filing -- such documents are usually a few pages long -- the judge highlighted the difficulty of bringing her to court, saying "it was necessary to write nothing short of a treatise of procedural law."
Cristina was suspected of using Aizoon for "strictly personal" spending, which amounted to receiving untaxed dividends from the company while reducing the firm's taxable profits, according to court filings.
Spending included trips to South Africa's Kruger National Park, tickets to Rome's Olympic Stadium and restaurant bills including children's menus, according to an earlier ruling signed by the judge. Home refurbishments and a 1,742-euro ($2,160) crockery set were also charged to the company.
Botin Doctrine
The case was driven by a private prosecution by Manos Limpias, a public-sector union. Because the public prosecutor opposed the charges against Cristina, the princess may avoid going to trial under the Botin Doctrine.
In a 2007 case against Emilio Botin, the former chairman of Banco Santander SA, the Supreme Court ruled that people can't be tried for tax crimes without the support of the public prosecutor because the state is the damaged party.
Prime Minister Mariano Rajoy said in a television interview on Jan. 20 that he was convinced the princess was innocent and that she should resist calls to give up her royal privileges. In the same interview, Rajoy, whose party's finances are being investigated in a separate probe, said that everyone should be "equal before the law."
Before it's here, it's on the Bloomberg Terminal.
LEARN MORE