Raimondo Belies Republican Juggernaut in Rhode Island Gubernatorial Win
William Selway and Mark Niquette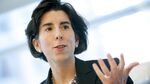 Democrat Gina Raimondo focused her campaign for Rhode Island's governorship on turning around the New England state's ailing economy by reviving factories that were once a fount of middle-class jobs.
As a result, the smallest U.S. state by land area bucked the trend against her party. While Republicans won the U.S. Senate and captured a hold in statehouses not seen in almost a century, Raimondo, the 43-year-old treasurer, became the first Democrat elected governor of the Ocean State since 1992, and the first woman.
"Here in Rhode Island, we've got to get people back to work," Raimondo said yesterday in a telephone interview. "Nothing else matters if we can't get this economy going. So I focused relentlessly on that message."
The former venture capitalist's victory contrasts with contests from Colorado to Georgia, where Democrats who ran on issues such as reproductive rights, preserving Social Security and improving education were defeated after failing to connect with Americans struggling more than five years after the end of the last recession. While corporate profits and the stock market have touched record highs, the economy under President Barack Obama has left wages and incomes stagnating.
The Republican advances on Nov. 4 will put the party in control of at least 31 governors' offices, up from 29. The winner of the Alaska and Vermont races have yet to be decided.
"We didn't campaign very well," Ed Rendell, the former chairman of the Democratic National Committee and one-time Pennsylvania governor, said in a telephone interview. Asked what the key is for Democrats to connect better with voters, Rendell said, "Better messaging, and more aggressive messaging."
Shaking Awake
In Rhode Island, Raimondo made the most of a tough situation, with an economy that's struggling to revive from the 18-month recession that ended in June 2009, the longest since the Great Depression. Its unemployment rate of 7.6 percent in September was the third-highest in the U.S., according to the U.S. Labor Department.
The economy ranked as the 14th worst in the nation in the first half of this year, according to Bloomberg Economic Evaluation of States index. The gauge measures tax collections, home prices, mortgage delinquency, job growth, personal income and performance of local company shares.
Close Focus
With a population of about 1 million, Rhode Island's economy is driven by health care, seaside tourism and colleges such as Brown University, a member of the Ivy League. It's also known for jewelry manufacturing and is home to companies including toymaker Hasbro Inc. and drugstore chain CVS Health Corp.
Raimondo was able to parlay her business background and 2011 success in pushing through an overhaul of the state's cash-strapped pension system into one of the few Democratic bright spots. Rhode Island was the only state other than Pennsylvania where the party won a gubernatorial race it didn't in 2010.
She supported raising the minimum wage, boosting spending on public works and spurring the creation of manufacturing jobs.
Raimondo's focus on the economy helped her draw support from independent voters and traditional Democrats, even as the pension changes she championed angered government employees, said Joseph Fleming of Fleming & Associates, a polling firm in Cumberland, Rhode Island.
"Her campaign was about the economy all the way," Fleming said. "She just really stayed focused on the jobs and the economy message. That helped her."
Split Field
She was also assisted by running in a state where Democrats outnumbered Republicans by more than 3-to-1 in 2012, though voters who have elected Republican governors as a counterweight to the Democrat-run legislature. The current governor, Lincoln Chafee, a former Republican U.S. Senator, won office as an independent in 2010 and later became a Democrat.
A three-way race, which included Republican Allan Fung and Moderate Party candidate Robert Healey, allowed Raimondo to win with 41 percent of the vote. Healey, a political activist and perennial candidate, won 21 percent of the vote while spending next to nothing on his campaign.
Fung, the 44-year-old mayor of Cranston, opposed increasing the minimum wage and favored curbing unions' power. He proposed cutting taxes and easing regulations, echoing his party's national approach.
Formula Fails
Raimondo said her plans, which include worker training programs, had broader appeal.
"I offered a strategy for economic growth," Raimondo said. "He just offered the same Republican platform of cut taxes on corporations, hold down wages and automatically the economy will turn around."
Fung said his campaign faced a challenge running in such a Democrat-heavy state, where the election results were shaped by an unusually strong showing by the third-party candidate.
"It's an uphill battle because it's a Democratic state," he said. "We ran a competitive race."
Robert Coupe, a spokesman for Fung's campaign, said the Republican fared well outside of Providence, the most populous city.
Mark Smiley, chairman of the state's Republican Party, dismissed Raimondo's proposals as appealing but unrealistic.
"It's going to resonate with that typical blue-collar guy who's looking for that union heyday from 20 or 30 years ago," he said.
Clearing Out
Tim Byrne, the business manager in East Providence of a union representing some 1,200 plumbers and other tradesman, said many of his members are without work and some have left the state to seek work.
"We felt she could do the job, get it done, and pull the state out of the economic slump that it's in," Byrne said. "The bottom line is we got selfish. We wanted to put our guys back to work."
A Rhodes Scholar and graduate of Harvard University and Yale Law School, Raimondo co-founded Point Judith Capital before becoming treasurer in 2010.
In that job, she successfully backed overhauls to Rhode Island's pension system that lifted the retirement age, put workers into 401(k)-type plans and suspended raises for retirees until the system was on a better footing, all of which were estimated to save $4 billion over the next two decades. That step cost her support of public-employee unions.
Personal History
During the gubernatorial campaign this year, Fung and Democratic rivals attacked her for putting more state money into high-fee hedge funds as benefits were being cut, and for campaign contributions from Wall Street. Among her supporters was Michael Bloomberg, the founder and majority owner of Bloomberg LP, the parent company of Bloomberg News. Bloomberg donated $1,000 to Raimondo's campaign, the annual maximum, according to state records. He also supported her candidacy with Independence USA, a political action committee, which spent $20 million on gubernatorial races and state ballot questions.
Raimondo countered her portrayal as a plutocrat. In advertisements, she recalled how her family was thrown into turmoil when her father was laid off from his job at a watch factory.
"The story of Rhode Island is that we used to be the jewelry manufacturing center of America, all those jobs left and then our leaders let us down and didn't reposition us for new industries and we're still stuck," she said in the interview. 'It's on me now to deliver results.''