Nascar's Busch Probed in Domestic Assault Allegation
Mason Levinson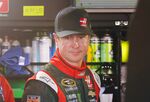 Nascar driver Kurt Busch is under investigation after an allegation of domestic assault, according to the police department in Dover, Delaware.
The allegations were brought to the police three days ago, officials said in a statement posted on the department's website. Details of the accusations weren't disclosed.
The investigation joins other recent U.S. sports cases tied to domestic abuse, an issue thrust into the spotlight in the wake of National Football League running back Ray Rice's ouster from the league in September after video of his punching and knocking out his then-fiancee was made public.
The complaint against Busch was made by his former girlfriend, according to the Associated Press. She said the altercation took place inside Busch's motor home at a September race at Dover International Speedway, AP said.
An e-mail seeking comment from Busch's attorney, Rusty Hardin, wasn't immediately returned.
A comment from Hardin posted on Nascar's website said that Busch will cooperate with the investigation and that "he expects to be vindicated when the entire truth of the situation comes to light."
Nascar is aware of the investigation, spokesman Brett Jewkes said in a statement.
"We recognize the seriousness of this matter and are actively gathering information from all parties, including law enforcement authorities and Stewart-Haas Racing," Jewkes said. "It would be inappropriate for Nascar to comment further on this matter until we have more information."
Busch, 36, is the 2004 Sprint Cup champion. He's a 25-time winner in Nascar's premier division, with his most recent coming in March at Martinsville Speedway.
Before it's here, it's on the Bloomberg Terminal.
LEARN MORE