Mercedes Revives Lease Bonds Repressed by Crisis: Canada Credit
Cecile Gutscher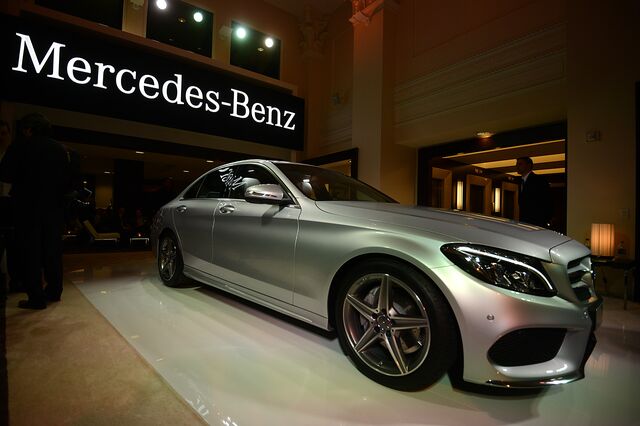 Mercedes Benz AG is selling bonds backed by auto leases in Canada for the first time since the depths of the financial crisis as a rebounding economy and depreciating currency buoy automotive sales.
The Daimler AG luxury unit is setting up a program that will allow it to issue bonds in Canada as often as twice a year, according to Richard Hunt, an analyst at Moody's Investors Service, who rated the first transaction for C$450 million ($394 million). The bonds are backed by lease payments on cars that hit the used-car lot after four years, when they are sold for between one-third and two-thirds of their new-sale value, depending on the model.
"We expect Daimler-Mercedes to keep issuing off this program they've set up -- the reason they would do that is they want to have a permanent funding platform for their auto leases," Hunt said from Toronto by phone yesterday.
Stronger economic growth is sparking the confidence needed for Canadians to buy cars like never before, and leasing is also on the rise. Auto sales in Canada are expected to post a full-year record of more than 1.8 million vehicles, according to Scotiabank economist Carlos Gomes, who said yesterday he also anticipates leasing to rise this year.
Smaller Cars
Bayerische Motoren Werke AG and Nissan Motor Co. were the last to issue Canadian auto-lease securitizations in 2009, according to Moody's. Mercedes set prices on the lease-backed bonds yesterday, paying a coupon of 1.54 percent on the A1 class due July 15, 2015. The deal is collateralized by about a quarter of Mercedes leases in Canada, Andrea Berg, a New York-based spokeswoman for Daimler, said yesterday.
Among the best-selling Mercedes models in Canada are the C-Class sedan and the GLK sports-utility vehicles, Hunt said, showing a preference for smaller cars than Americans.
Leasing, which virtually disappeared in 2009 and two years later averaged only about 20 percent of overall new car purchases, is making a comeback, Gomes said. Before the 2009 downturn it accounted for more than 40 percent of overall purchases in Canada, he said.
One factor helping to boost sales is the lowest exchange rate in five years. Canadians are now buying more cars at home rather than crossing the border to avoid a currency that strengthened to 90.58 cents per U.S. dollar in November 2007.
"The recent depreciation of the Canadian dollar is a positive factor for Canadian used vehicles," Hunt said. "It means U.S. used vehicles are more expensive."
Residual Values
The currency has weakened about 6.5 percent versus the U.S. dollar this year. It traded at C$1.1363 per U.S. dollar at 11:47 a.m. in Toronto. One Canadian dollar buys 88.01 U.S. cents.
Automakers have avoided securitizing leases in Canada for the past five years because lackluster demand for used cars meant they couldn't anticipate the resale, or residual, values. Poor resale values have a direct impact on bonds because what is being securitized is the sum of the lease payments, plus the resale value of the vehicle at the maturity of the lease.
"Residual values on vehicles declined a lot during the financial crisis," Hunt said. "Most auto companies ran into problems with the residual values of vehicles during the financial crisis, and Mercedes was no exception."
If a used car fetches less when the consumer hands it back to the dealer, it devalues the base of assets used to collateralize bond principal and interest. For example, a lease might assume a resale value of C$40,000: any less is a shortfall that eats into the credit-enhancement cushion built into the bond, and eventually the principal due investors.
Before it's here, it's on the Bloomberg Terminal.
LEARN MORE