How Papa John's Turned Beijing Into a Money Pit
By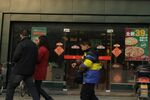 The Papa John's story is happy at home—same-store sales in North America jumped 7.7 percent so far this year—but the pizza business has gone cold in China.
Take a look at the chain's performance in Beijing, the only overseas market where Papa John's owns its stores. The 58 locations in Beijing and North China represent just 5 percent of the global total. Papa John's lost $2.3 million in China in the first nine months of the year, nearly triple the $850,000 it lost in the same period in 2013, according to the latest filing with the U.S. Securities and Exchange Commission. That red ink reflects Papa John's losses from operating company-owned stores in Beijing—its franchised stores, on the other hand, all contribute revenue as royalties to the company.

Papa John's decided to buy its Beijing-area outlets as a way to learn. "Owning and operating restaurants and a quality control center in Beijing will allow us to better understand the China market, better support our franchisees in Asia," Robb Chase, the former international president of Papa John's, explained in a 2006 press release about the acquisition of the Beijing stores. It has evidently been a costly lesson.
The company poured money into 11 locations in Beijing and North China last year, a move Chief Operating Officer Steve Ritchie framed as designed to bring about "significant profitability improvements in China in 2014." But improvements have proven harder than expected. Lance Tucker, Papa John's chief financial officer, said during an earnings call this week: "Our financial results in our corporate-owned and North China market are not improving at the pace we projected entering 2014, and we currently project profitability for the full year to be relatively flat with 2013."
It's quite a different tone than the company struck in May 2013, when Papa John himself—Chief Executive John Schnatter—heralded the turnaround in Beijing as "a big deal." He added: "We've got the service part of this down. We've got the product quality part of this down. And we now have the right model in place to be successful." The company planned to have 100 locations in Beijing by early 2015, which doesn't appear likely now.
Papa John's executives were in Beijing this week to see what's going wrong out there. The expired meat scandal over the summer was only part of it. "We'll be making further enhancements to our marketing, menu, and model to improve our brand positioning, sales, and profitability," Ritchie said to investors during the call.
Before it's here, it's on the Bloomberg Terminal.
LEARN MORE