Federer Pursues First Top Rank Since 2012 With Net Play
Danielle Rossingh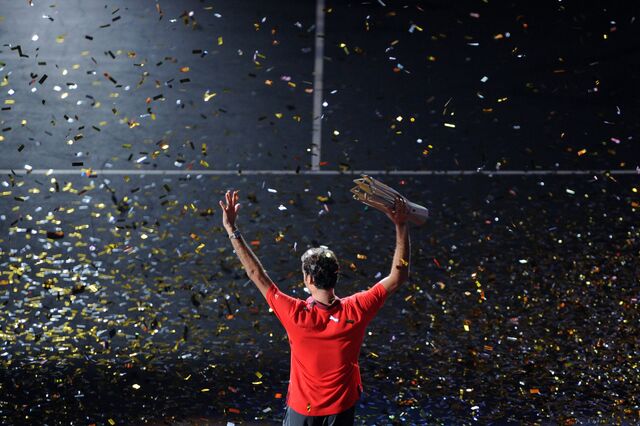 Roger Federer is employing the old-school strategy of net play as he seeks to regain the top spot in men's tennis he last held in 2012.
Federer, 33, finished last season as the world No. 6 after failing to make a major final for the first time since 2002. This year, he's won five titles, reached the Wimbledon final and heads to the season-ending ATP World Tour Finals in London with a shot at regaining the No. 1 ranking from Novak Djokovic.
"The one thing that is very obvious to the eye is that he's coming to the net a lot more," Craig O'Shannessy, lead statistician on the men's and women's tennis tours and a former coach, said in an interview. "That's a big, big change that will certainly serve him well in London."
After the 2013 season, Federer made some changes. He hired Stefan Edberg -- who won the 1988 and 1990 Wimbledon titles with his trademark net play -- as one of his coaches and switched to a bigger racket. Federer said that even when he loses the point at the net, just being there can have an impact later in a match.
"It's putting the pressure on the opponent, knowing that any short ball will be attacked," he told reporters at Wimbledon.
Federer will start his quest for a record seventh ATP Finals title tomorrow in London's O2 arena against Canada's 23-year-old Milos Raonic, while former Wimbledon champion Andy Murray, 27, plays U.S. Open finalist Kei Nishikori, a 24-year-old from Japan.
Staying Healthy
Federer, playing in his 13th consecutive Tour final, said yesterday he's been able to sustain his form and fitness over the years by listening to his body.
"Understanding the body, feeling it, understanding when is it close to being injured," he told reporters in London. "When is it hurting but is it playable."
In the other group starting Nov. 10, two-time defending champion Djokovic, 27, faces Australian Open champion Stan Wawrinka, 29, of Switzerland while U.S. Open champion Marin Cilic of Croatia plays seventh-ranked Tomas Berdych, 29, of the Czech Republic.
The ATP Finals feature a round-robin format, with the top eight singles and doubles players divided into two groups. Each plays the three others in the group, with the top two in each section moving into the knockout semifinals.
Djokovic Favorite
Djokovic is the title favorite at U.K. bookmaker William Hill Plc at 5-6, followed by Federer at 10-3 and Murray at 6-1. That means a successful $6 bet on the Serb will return $5 plus the original stake.
Djokovic is the top earner this season, having won $9.5 million, compared with Federer's $6.9 million. Spain's Rafael Nadal, who is missing the London tournament because of appendix surgery, has made $6.2 million in prize money this season.
"I've won this thing now two years in a row, which gives me good reason I can win it again this year," Djokovic said in a news conference in London yesterday.
Federer, the oldest man to qualify for the ATP Finals since Andre Agassi in 2005, is trailing Djokovic by 1,310 points in the rankings. Federer will claim 1,500 points if he wins the London finals undefeated, while an additional 225 points are up for grabs when he plays the Davis Cup finals against France in two weeks. Djokovic will finish the year as the No. 1 player if he wins all three group matches this week.
Game Plan
Second-ranked Federer, who has won a men's record 17 Grand Slam singles titles and spent an unprecedented 302 weeks as the world's best male tennis player, used net tactics to beat Djokovic three times this year. Federer served and volleyed on 81 percent of his first serves in Dubai, where he beat Djokovic in the semifinals.
Last month in the Shanghai semifinals, Federer approached the net 48 times in his straight-sets defeat of Djokovic, who called it "the perfect match" in a news conference afterward.
Djokovic meanwhile is on an unbeaten run of 27 matches indoors and beat Federer in the finals of Wimbledon and Indian Wells.
The switch to a racket with a bigger sweet spot "has had a profound impact," on Federer's game because the larger hitting area allows him to take the ball earlier from the baseline, said O'Shannessy, who has coached South Africa's Kevin Anderson. On the backhand, the single-handed Swiss can take the ball on the rise and down the line more.
"I call him a short ball hunter," O'Shannessy said. "With a slightly bigger racket this year, he is far more effective."
Before it's here, it's on the Bloomberg Terminal.
LEARN MORE