Obama's $6 Billion Ebola Request Comes Too Late
By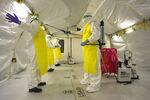 President Obama is asking Congress for $6.2 billion in emergency funding to battle Ebola. The money would aid those on the front lines of the epidemic in West Africa and help U.S. health departments and hospitals prepare for more cases arriving here. It would also help speed research into experimental vaccines, therapies, and diagnostics to give medical workers better weapons against the virus. All these things are necessary—and the money would also come far too late.
Anyone in public health will tell you that the time to prepare for an emergency is before you have one. "You may be able to buy equipment quickly, but you can't buy trained personnel quickly," Jeff Levi, executive director of Trust for America's Health, told Bloomberg Businessweek last month. State and local health departments have shrunk by about one-fifth since 2008, because of lower tax revenue and cuts in federal funding. Funding disbursed by two of the programs that the emergency request would boost—the Public Health Emergency Preparedness Program and the Hospital Preparedness Program—dropped 38 percent since 2007, or half a billion dollars.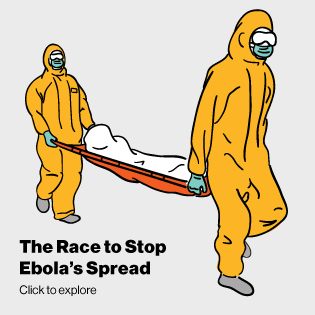 Likewise, government cuts and bureaucratic bumbling have delayed the quest for treatments and vaccines. That was the case for two experimental drugs: ZMapp and a potential treatment from Sarepta Therapeutics. Sarepta was funded for two years with Department of Defense grants. Its drug, known as AVI-7537, showed promise in primate testing, and early human tests suggested it was safe.
The U.S. Food and Drug Administration "designated AVI-7537 an orphan drug and granted it fast-track status," Sarepta Chief Executive Officer Chris Garabedian said on an earnings call. "However, the program was unfortunately halted in 2012 due to funding cuts." The company is now in talks with global and U.S. authorities responding to the Ebola crisis. Garabedian said 20 treatment courses are available and that the company may be able to manufacture another 250 using leftover material "remaining from our original contract with the Department of Defense."
The seesaw nature of preparedness is familiar in the public health world. In the past, money and attention followed anthrax scares, SARS, and the H1N1 flu epidemic. The infrastructure needed to respond to outbreaks took a back seat when the crises faded and Washington cut budgets in a drive for austerity.
"The question is, will we learn anything from this?" James Colgrove, a professor at Columbia's Mailman School of Public Health, told me this week. He noted that Ebola won't be the last infectious disease crisis the world will face. "At some point we're going to confront pandemic flu. The people who study this agree that it's not if but when."
Since March the Ebola epidemic has infected more than 13,000 people, mostly in Guinea, Liberia, and Sierra Leone, and a handful of cases have landed in other countries, including Nigeria, Senegal, Mali, Spain, and the U.S. On Thursday, Health and Human Services Secretary Sylvia Matthews Burwell outlined a four-pronged plan for the emergency funding to strengthen U.S. preparedness, stop the outbreak abroad, invest in vaccines and therapies, and strengthen global public health security. "We believe we have the right strategy in place both at home and abroad with regard to responding to Ebola," Burwell told reporters. It would have been much better to have that strategy in February.
Before it's here, it's on the Bloomberg Terminal.
LEARN MORE