Eat This Now: Empellón Al Pastor's Delicious Pork Tacos
by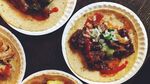 I had a surreal, corn-fueled dream after eating at Empellón Al Pastor, Alex Stupak's new restaurant and bar in Manhattan's East Village. It involved giant paper plates of tacos dancing toward me one by one in the sort of supernatural taco pageant you might see in a Studio Ghibli movie animated with pineapples and pigs.

One by one is good because then you can go at them while they're still piping hot and the tortillas are tender, letting off a sweet, corn-perfumed steam. That's not exactly how it works at Al Pastor, named for Mexico's famous spit-roasted pork. The tacos rush out in groups after you've ordered them at the counter and taken a seat, but there is magic here all the same.
The restaurant on the corner of 8th Street and Avenue A is extremely casual and graffitied with minimal table service. The menu is tiny, a half dozen tacos plus sides like black beans with scraps of al pastor, chips and guacamole. There's a long drink menu though of beer and micheladas (some of them boosted with gin, rye, or cognac) and a fine tequila and mezcal list that includes Fidencio Pechuga, a gently smoky and fruity mezcal distilled with chicken meat.
Process Matters
Al Pastor is one of the few kitchens in the city nixtamalizing ground corn to make fresh tortillas, which are supple and tender with a soft grain, thick enough to hold a generous amount of topping. On a recent visit, the winner at my table was a toss up between the steak with caramelized onions ($4) and the al pastor ($4). The latter's meat is shaved like shawarma off one of the rotating spits at the back (endlessly turning with sweet, crisp-edged, fatty pork shoulder) then crowned on the tortilla with thick slices of pineapple and the sparest bit of onion. The red and green salsas run together over the meat, making some bites hotter and brighter. Everyone bar-hopping through the East Village should meet this taco before they go home.
The barbacoa ($20) was delightful -- a beef bone that could barely hold on to the meat wrapped around it, plus hot tortillas, salsa, and broth. The server suggested we treat the broth like soup, but it was far too salty to drink. Using it to dip edges of tortilla and meat, or to baste the meat for a hit of salt, worked much better. You could make a small meal of it with two people, or share one order among a bigger group (there are six tortillas) so you can try more things.
At one point, as I politely waited for everyone to get their food, I left my poor chorizo and potato taco dawdling at the edge of the table. By the time I came back to it, the tortilla was cold, stiff, and lifeless. It had gone from a gorgeous pillow of corn to a brittle, grainy thing, and it had happened very quickly. Don't make the same mistake.
Here's a rare occasion when it's best to just eat, even if your friends are still waiting for their food, or hoping to style a gram of all the plates together, or trying to get rid of a wasp that flew in through the open window. Your taco is here, and it requires your immediate attention. If they're really your friends, they'll understand.
Empellon Al Pastor is at 132 St. Marks Place (East Village); +1 (212) 780-0999 or empellon.com.
(Tejal Rao is the New York food critic for Bloomberg. Follow her on Twitter @tejalrao and Instagram @tejalra or contact her at trao9@bloomberg.net)
Before it's here, it's on the Bloomberg Terminal.
LEARN MORE