Detroit's Exit From Bankruptcy Wins Judicial Approval
By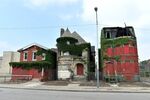 Sixteen months after Detroit filed for bankruptcy, the city's plan to shed the weight of its debts was approved in a hearing on Friday. The carefully negotiated agreement erases $7 billion of the $18 billion owed to Detroit's creditors.
To approve the plan, the judge had to determine that the reduction would provide a solid footing for Detroit to move on and not slide into the red again. U.S. Bankruptcy Judge Steven Rhodes, in announcing his intent to approve the plan, said the bankruptcy process helps cities fix problems they "cannot solve themselves."
Rhodes appointed a federal district judge to lead the negotiations with creditors, and he reached a major breakthrough in July with the so-called Grand Bargain that largely spared the city's retirees from cuts. He also got foundations and the state to support the Detroit Institute of Arts, whose prized collection creditors said should be sold to repay the city's debts.
Two large bond insurers led the charge of objectors to the deal, saying it favored retirees over financial creditors. The insurers reached unusual agreements with the city in the past two months that forced them to take major haircuts in exchange for owing land and businesses that are part of Detroit's redevelopment plans.
Free from much of the older past debt, Detroit's future will now be in the hands of residents and civic leaders to see if they can create a more resilient foundation. The city's in the midst of a massive, contentious, and complicated process of tearing down blighted structures, reviving certain neighborhoods, and trying to prevent others from slipping way. Private money has flowed into the downtown. With the bankruptcy's clean slate, creditors, foundations, and residents all have a stake in seeing it work.
Before it's here, it's on the Bloomberg Terminal.
LEARN MORE