Coldest November Since 2000 Turning Gas Traders Bullish
Naureen S. Malik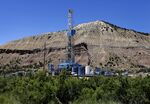 Hedge funds almost tripled bullish bets on natural gas as forecasts for frigid weather east of the Rocky Mountains signaled a surge in demand for the heating fuel.
Speculator net-long position across four benchmark contracts rebounded from the lowest level since March 2012, U.S. Commodity Futures Trading Commission data show. Short positions, or bets on falling prices, fell by the most in more than nine months in the report covering the week ended Nov. 4.
Gas futures have rallied 24 percent from an 11-month low on Oct. 27 as forecasts turned frigid. A cold front from Canada will sweep across most of the lower 48 states over the next two weeks, according to Commodity Weather Group LLC in Bethesda, Maryland, which predicts the coldest November since 2000. As demand picks up, inventories will start the peak winter season at a deficit to five-year average levels for the first time in at least 10 years.
"That weather report a week or so ago really caught people off guard," John Woods, president of JJ Woods Associates and a Nymex floor trader, said by phone yesterday. "There weren't a lot of people in the market and all of the sudden you have new blood coming in. This rally is screaming at the gate."
Natural gas advanced 48 cents, or 13 percent, to $4.129 per million British thermal units on the New York Mercantile Exchange during the period covered by the report. Prices settled at $4.412 yesterday, the highest since July 1 and capping the biggest weekly increase since February.
Degree Days
The price gains accelerated after pushing through technical resistance levels of $4.25 and $4.40, Woods said.
The cold blast will be most intense in the Midwest, East and South, Matt Rogers, president of Commodity Weather, said in an e-mail yesterday. Nationwide, the number of heating degree days in November may total 633, up 4.8 percent from a year earlier and the most for the month since November 2000, he said. Heating degree days are used as a proxy for weather-driven energy demand.
The low temperature in Minneapolis on Nov. 14 may fall to 9 degrees Fahrenheit (minus 13 Celsius), 18 below normal, AccuWeather Inc. said on its website. Dallas may drop to 36 degrees, 11 below average.
About 49 percent of U.S. households use gas for heating, led by the Midwest and Northeast, U.S. Energy Information Administration data show.
"This is obviously a cold-weather forecast that was delivered for November and people hint at a colder December," Breanne Dougherty, natural gas analyst for Societe General SA in New York, said by phone Nov. 6.
Supply Deficit
Gas inventories totaled 3.571 trillion cubic feet as of Oct. 31, 6.8 percent lower than the five-year average, the EIA said. There was a stockpile surplus of 1.5 percent at the start of last winter and a 55 percent deficit when it ended.
Net-long positions on four U.S. natural gas contracts rose by 37,831 futures equivalents to a three-week high of 57,517. The measure includes an index of four contracts adjusted to futures equivalents: Nymex natural gas futures, Nymex Henry Hub Swap Futures, Nymex ClearPort Henry Hub Penultimate Swaps and the ICE Futures U.S. Henry Hub contract. Henry Hub in Erath, Louisiana is the delivery point for New York futures. short positions slid 7.3 percent to 302,905.
December $5 calls were the most actively traded options on the Nymex yesterday, rising 1.6 cents to 4.7 cents on volume of 2,950 contracts. Calls accounted for 63 percent of volume. Implied volatility for at-the-money options expiring in December rose to 53.9 percent, the most for a front-month contract since Feb. 24.
"The market momentum was an absolute transition from bearish sentiment to bullish sentiment and once that transition happened that momentum moved prices up very quickly," Dougherty said.
Before it's here, it's on the Bloomberg Terminal.
LEARN MORE